This post may include affiliate links.
Would you like to find work from home jobs without investment or fees?
Currently, this is something almost anyone can do with access to the internet and a computer. 
You no longer have to endure, yes I said it, endure the same old nine-to-five workday. 
In fact, making a living from the comfort of your own home is quite easy. 
With a bit of research and the right tools, you can set up your own home-based business, find a suitable online job, or start a side hustle. 
Today, we'll explore the best work-from-home jobs without investment or capital. This is your chance to find your ideal work from home job, a dream career, and attain a better financial balance. 
PIN IT!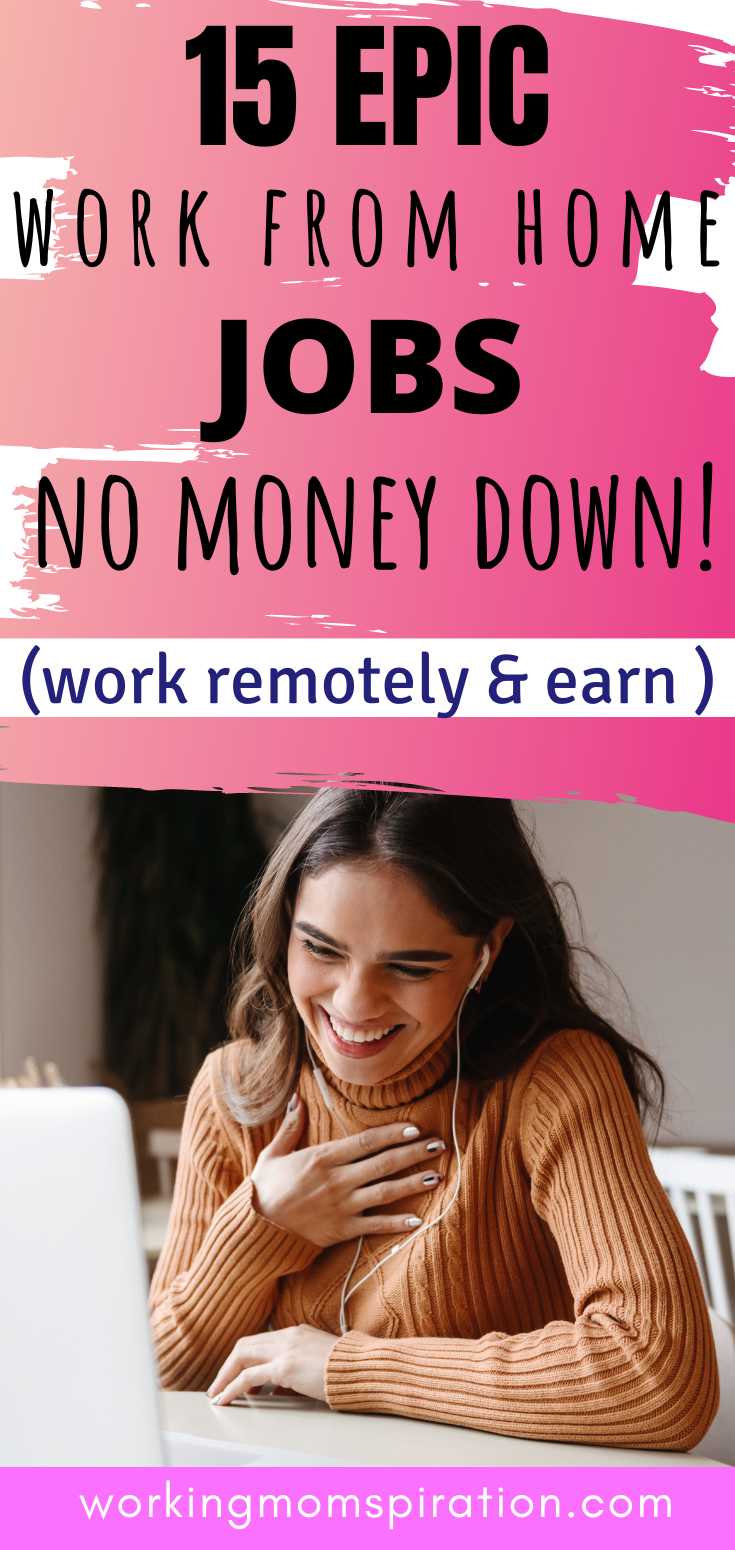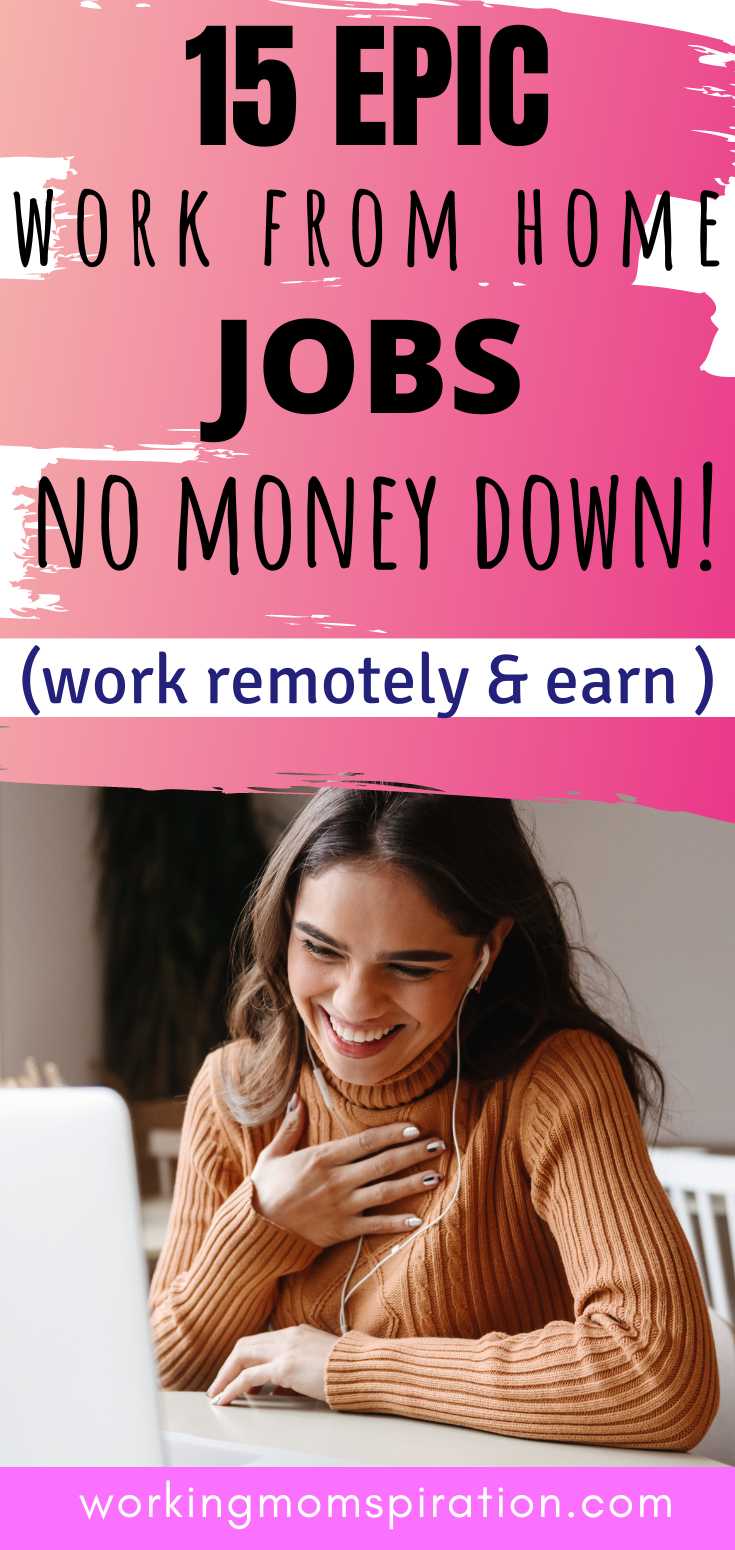 Best Work From Home Jobs Without Investment 
1. Data Entry Clerk
Data entry jobs are a great way for anyone with fast typing skills to make some extra money online! 
There are several opportunities to choose from, so you can find something that fits your schedule and interests. 
These gigs can often be done from the comfort of your own home. All you need is a computer and an internet connection. 
You can usually pick up the skills quickly and start earning money right away. 
Most remote data entry jobs allow you to choose your own hours or work when it's convenient to you.
 Not only that, but you won't need any specialized education or experience – just a typing speed of at least 50 words per minute and the right attitude. 
So if you're looking for a flexible job that pays well check out these 30 data entry jobs that require no investment whatsoever!
2. Social Media Manager
Do you have a passion for social media and want to make a great living doing something you love?
 Becoming a social media manager might just be the way to achieve that goal. 
As a social media manager, you will have the opportunity to help businesses and organizations reach their target audience, build relationships with their customers, increase brand awareness, and generate leads.
It's not a job that requires an investment of any sort unless you want specialized training to increase the likelihood of getting high-paying clients. 
 With the right skills, you can have a successful career as a social media manager and make a great living while helping clients to increase their brand awareness.
As a social media manager, you are expected to:
Develop and execute a social media strategy
Create and publish engaging content
Monitor and respond to social media interactions
Stay up-to-date with social media trends
Manage advertising campaigns
Report on the success of social media efforts
If you're interested in finding legitimate social media manager gigs, try using Facebook Job groups or job boards like FlexJobs or Virtual Vocations. 
3. Freelance Writer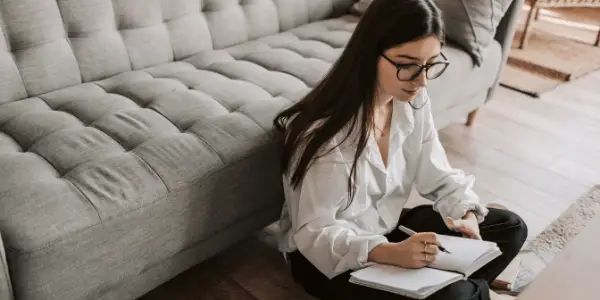 This is one of my favorite work from home jobs without investment because I did it for a while and enjoyed it.
Not only was it super flexible, but I was able to earn extra money along with the day job I had. As a stay at home momma, it's great to have options!
So, whether you're a stay-at-home parent with free time during the day, a recent college graduate looking for a more flexible job, or an experienced writer wanting to go solo, freelance writing offers a great solution. 
One of my favorite parts about it is that there's no need to commute to an office every day, no need to buy expensive business attire, and no need to be tied down to rigid work hours.
 You are free to work on your own terms and be your own boss. With freelance writing, you can choose which projects to take on and have the opportunity to work with clients from all over the world.
This mom made more than $200,000 a year as a freelancer and it's definitely something you can do too!
Learn how she does it all – with kids!
4. Babysitter or Child Care Provider
Ah, babysitting! Who can forget the days of being a kid and running around looking after other people's children?
Do you remember the days when you'd take on babysitting jobs during the summer, when school was out and you wanted extra money for clothes?
Baby sitting is a fun way to interact with children and help them learn and grow while allowing you to earn some extra money.
Depending on the nature of the kids and their age, babysitting can get hectic, but it does pay off at the end of the day.
In most cases, you do the babysitting at the parent's house, but you can also do it from your own home – as a business. 
This is especially convenient if you have a large space to manage a number of children and care for their needs throughout the day – or night if needed!
This is a great job for stay-at-home parents, retirees, or anyone else looking to make a little extra cash in their spare time.
 To find a babysitting job in your area, check out job boards, ask friends and family, or even take out an ad in your local paper. You can also use Care.com which is a reputable site for finding babysitting gigs.
With a little effort, you can easily find a great babysitting job or childcare provider gig that fits your schedule. 
5. Virtual Assistant
I've been working in this field for some time now, so I know just how flexible and convenient it can be. 
Virtual Assistants generally offer an array of administrative services to clients from afar. 
You should be able to handle a variety of tasks such as:
Responding to emails and phone calls
Organizing schedules and calendars
Data entry and database maintenance
Researching and producing documents
Delivering exemplary customer service
Arranging travel accommodations
Does this sound like something you could do?
With a quiet workspace and your laptop, you could start working as a VA in no time!
There are several places that take on beginner VA's, check them out right now. 
6. Proofreader
Are you looking for a job that will allow you to work remotely and flexibly, where you can put your linguistic and writing skills to good use?
 If so, then becoming a proofreader might be the perfect fit! As a proofreader, having keen eyesight and the ability to identify errors readily is essential.
This job can be incredibly rewarding and helps you to hone your grammar, spelling, and punctuation skills. You can work from anywhere in the world, as long as you have an internet connection and the right software. 
You'll get to review documents from a variety of industries, giving you the opportunity to learn about new topics and develop your knowledge.
 Plus, you'll get to exercise your creative side, as you'll be able to help improve and refine documents, making sure they meet high standards of accuracy.
Here are 20 places to start as a proofreader even as a beginner. 
This free workshop shows you how to earn 5 figures or more each year, working part-time.
7. Research Studies
If you've ever wanted an easy work-from-home job, look no further than research studies. 
Participating in these studies is a great opportunity for those who want to work from home, because you're simply giving your opinion. 
It's a fantastic way to not only make some extra money, but also to help shape the future of products and services. 
It's a fun little side gig as you may be asked to take surveys, attend focus groups, participate in interviews, or even be a test subject for products or services. 
Depending on the length and complexity of the study, participants can receive anywhere from a few dollars to hundreds or even thousands of dollars in compensation.
It's one of the best work-from-home jobs without investment because there's a simple sign-up process and you can do it all from the comfort of your own home.
A few legit spots to sign up include:
8. Bookkeeping
Are you great at math and calculating figures? That's the basic concept around bookkeeping and it's ideal for math lovers.
Bookkeeping can be a great way to bring in some extra money, and it's easier than you think. It doesn't require any formal qualifications, for the most part, just a basic knowledge of accounting principles and a willingness to learn. 
You can set your own hours, work from home, and make money doing something you enjoy.
It's great if you can use your bookkeeping skills to help clients to save money and become more efficient. 
There's a high demand for bookkeepers, so you can make a great living helping others and taking care of their finances. 
Check FlexJobs for available positions. 
9. Tutoring
Would you like to make extra money while helping others learn? 
What better way to do it than as an online tutor? Instead of sticking to a regular teaching job in the classroom, you can work from home and earn money. 
The internet has made it much easier to connect and collaborate, so becoming a tutor online has never been more accessible. This is one of the best part time work from home jobs without investment or fees, as there is zero start up.
You can work with students directly and provide customized one-on-one instruction for them, or you can offer virtual classes to a larger audience and get paid for your teaching services.
An ideal place to start teaching kids without a degree or qualification is Outschool. It's a fun learning website for children to get instruction in areas such as:
Math
Coding
Grammar
Music
Minecraft
Art
And more!
Sign up with Outschool, go through the application process, and start earning today! 
10. Give Your Opinion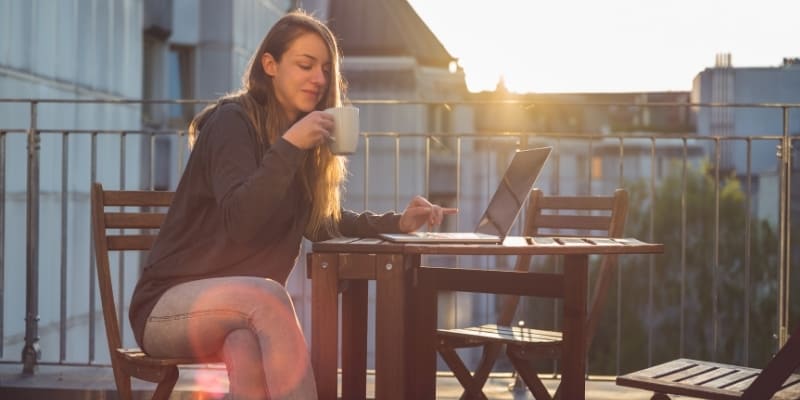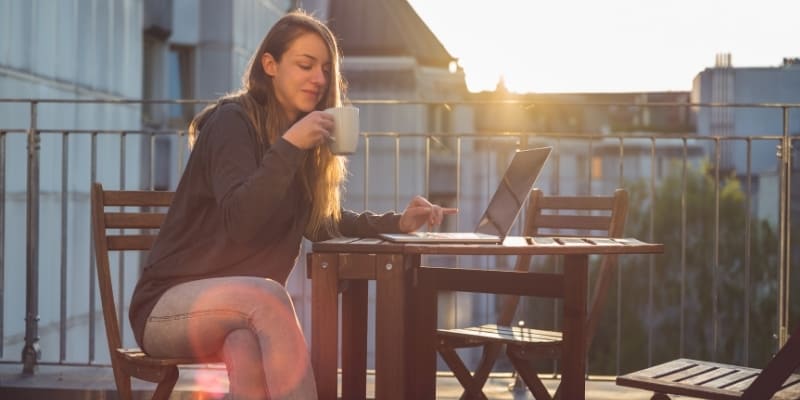 If you enjoy doing research studies, then you'll love giving your opinion for cash!
This entails answering surveys and questions on various topics such as food, fashion, pets, electronics, and more. 
Companies are always looking for people to provide valuable feedback and you can share your thoughts in a meaningful way.
It's such an easy side hustle that you'd be missing out if you don't try it. 
 All you need to do is find a survey platform or research panel that works for you and fill out surveys for cash rewards. 
It's simple and flexible, plus, you can work on your own time. Along with this, you'll be helping brands and organizations make important business decisions.
Here are a few places to give your opinion and earn money. 
11. Graphic Designer
Do you have a passion for art and design? Are you looking to turn that passion into a money-making venture? 
Graphic design might be the perfect right career path for you!
 As a graphic designer, you can use your creative skills to help businesses or your clients create and design effective visuals to reach their target audiences. 
This could be anything from logos and branding to websites and marketing campaigns. 
With the right training and experience, you can become a successful graphic designer and start making money in no time.
That's because this is not a skill that comes naturally to everyone and it's definitely in high demand. 
When looking for jobs, you won't have to search for long because several companies need designers for specific services.
If you believe you have the skills, but you're just starting out, get started with Fiverr and Upwork to build your portfolio. 
12. Online Product Reviewer
Do you enjoy shopping or trying new products?  Product reviewers get to try out the latest gadgets, fashion, kids' toys, samples, and more! 
And the catch? There's none.
All you have to do is write an honest review of your experience and voila, extra money in your pocket!
 It's the perfect way to make money from home and you don't even have to leave your house.
 In most cases, you get to keep the product you're reviewing, so it's like getting free stuff. 
All you need is a computer or phone, an internet connection, and a knack for writing and you can start earning cold hard cash from the comfort of your own home.
 So put down that shopping bag and pick up a pen, because with product reviewer jobs you can have the best of both worlds.
Here are 50 easy ways to make money as a product reviewer right now!
13. Course Creator
Creating courses can be a great way to generate income in this digital age. 
You could create courses on practically any topic because people are intrigued by a lot.
From programming, coding, self-help, productivity, art, or knitting, teaching a particular course could earn you passive income each month. 
 With the use of course creation platforms like Teachable and Thinkific, you don't need to have any expensive equipment or a formal education to start. 
All you need is to have a bit of knowledge, enthusiasm, and a well-structured plan.
Once your course is completed you can begin to monetize and sell it on marketplaces like Udemy and Skillshare or you can produce it on your own website. 
Check out Udemy and Skillshare to see which platform is for you!
14. Dropshipper
Almost everyone dreams of having their own business and becoming their own boss.
Drop shipping is an ideal way to do just that! 
As a drop shipper, you are able to sell products without actually having to purchase or store them. 
It's a fantastic business opportunity because you can partner with manufacturers and retailers and fulfill orders for customers without having to invest a lot of money upfront.
 This type of business model allows you to make a profit without the risk of stocking costly inventory.  Also, most people don't have the space at home or money to rent space for storing products, so it's a win-win!
Drop shipping is a great way to make money from home, and it can be very lucrative if done correctly. 
If you have an entrepreneurial spirit and are looking for a flexible, low-cost way to make money, dropshipping might be the perfect way for you to get started.
15. Blogging
I love this way of making money because it's so rewarding. I must admit that blogging does require an investment up front if you plan to earn from it.
I do want to mention it though, because it has the potential to earn you 6-figures or more each year,
Some people even make 6-figures each month from blogging! A few people do start blogs completely free, but these are just hobby blogs and nothing that will make money even in the long run. 
However, you can make money just like I do, if you make your investment by starting a self-hosted blog connected with WordPress. 
Whether it's a blog about travel, fashion, food, or lifestyle, there are countless ways to monetize your blog to bring in extra income.
A few recommended revenue options include:
Display Ads
Digital Products
Memberships
Courses
 If you're dreaming of turning your blog into a lucrative side hustle, here are some tips to get you started.
First, you'll want to choose a niche and develop a blog that stands out. Your content should be unique and highly engaging. 
Be sure to write posts that are easily shareable and linkable, as this will help to attract readers and followers.
 Additionally, focus on creating your own brand and networking with other influencers in your niche.
This couple earns $500,00 each year from their blog and they share tips on how you can get started. 
Best Work From Home Jobs Without Investment
In reality, there are many work-from-home jobs that require an initial investment, but there are also plenty of opportunities that don't.
 Whether you're looking for a side hustle or a full-time job, there are numerous options available to you, from freelance writing to virtual assistant roles. 
With a bit of research and effort, you can find the perfect remote job that suits your skills and lifestyle.
PIN IT!