This post may include affiliate links.
Are you an introvert who wants to make extra cash but absolutely does not want to be around people 24/7? 
I get it, I've been there!
If you're looking for the best side hustles that suit introverts and pay really well, then you've come to the right place.
Some of these side hustles are super simple, while a few require a little more work.
A few of them will even make you passive income – that means less work time for you and more alone time to do what you love!
These side hustles for introverts work really well because you never need to talk, meet people, or leave your house!
You can do them all on a flexible schedule so you can work whenever you want.
To make this list a bit clearer, I've divided it into the best side hustles for introverts to make 1) passive income, 2) active income and 3) extra money.
This way, you can know which ones will work best for you. 
With that said, let's take a look at some of the best side hustles for introverts that pay really well!
Please share the ❤️️ and PIN this post for later!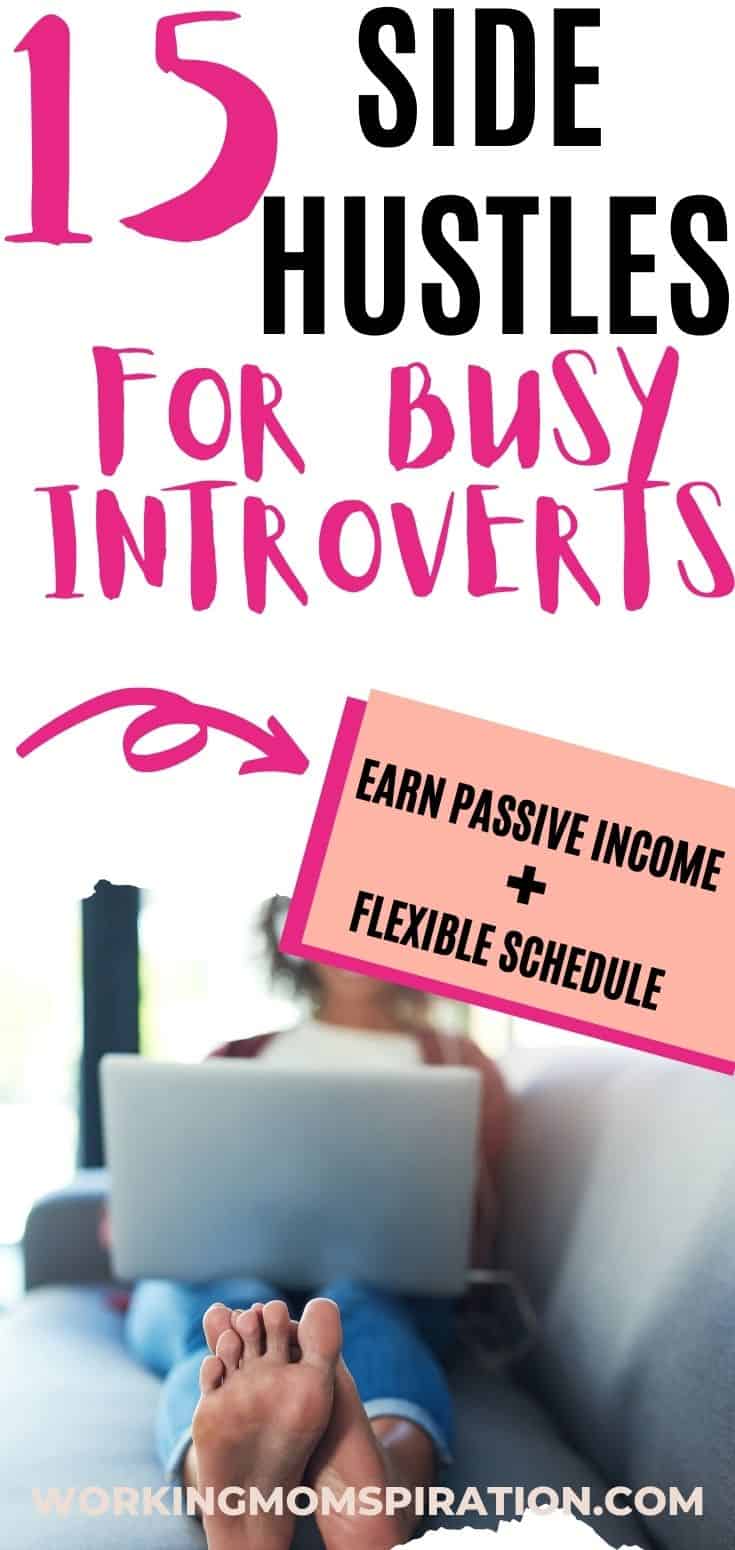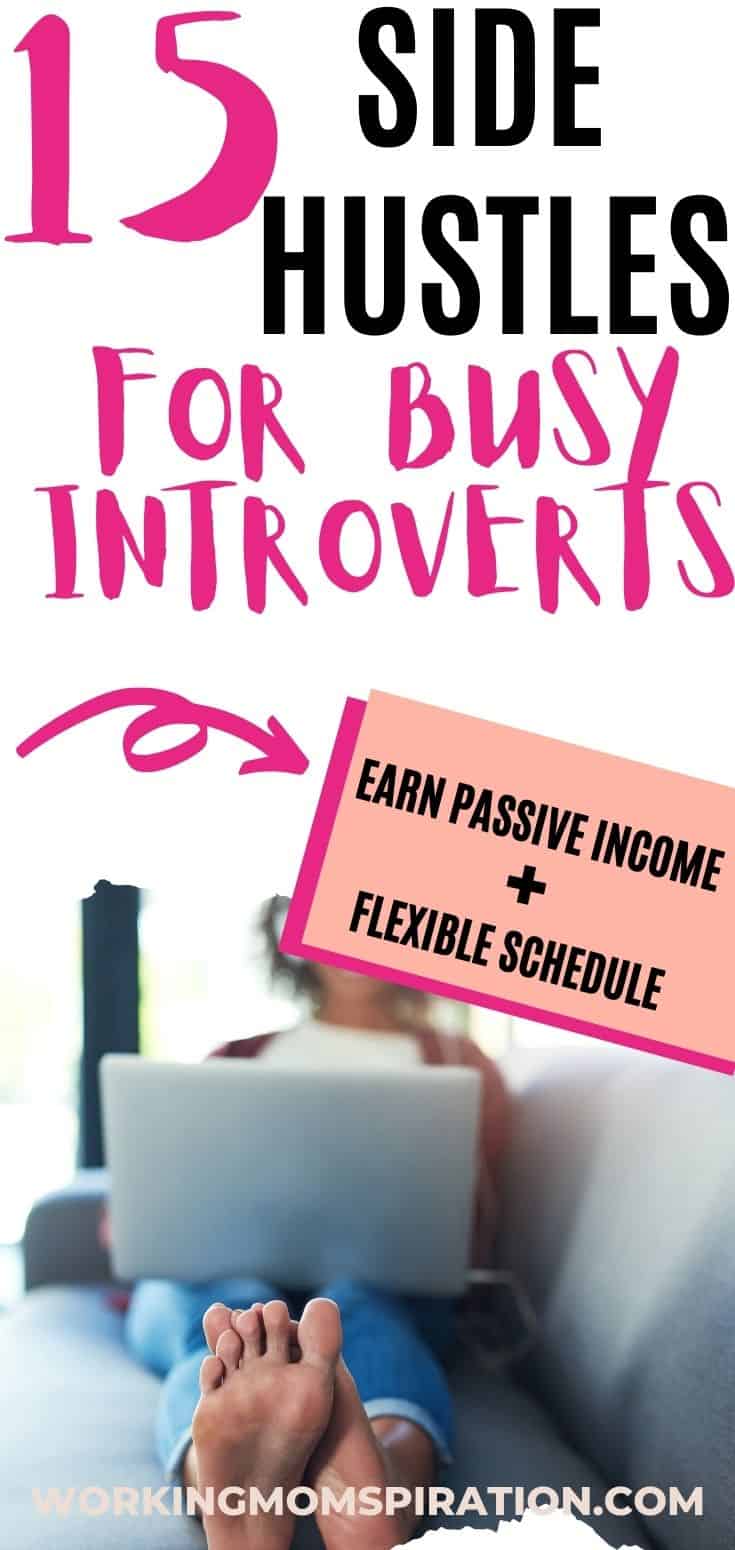 List of the Best Side Hustles for Introverts
Best Side Hustles for Introverts to Make Passive Income
Passive income allows you to make money while not actively working.
This is a preferred source of income for many people because it's so flexible.
With these side hustles, you can put in the work and then sit back and watch the money roll in.
Let's get into the list of passive income side hustles for introverts.
1. Blogging
This is an ideal side hustle for introverts because you can always work completely alone. 
I think blogging is one of the best jobs for creative introverts to make money if they want to share their ideas without interacting directly with people.
Blogging mostly entails writing, so whether you will do this one on your laptop or an Ipad, it's a nice side hustle for earning an income as an introvert.
One of the reasons I started this blog was because I've always wanted to work from home.
I've never liked working a regular 9-5 because of the commute and crowds, but blogging gets rid of all of that.
As a blogger, you will never have to speak with anyone and when you do need to communicate, it can all be done online through email or chat.
You can just spend time alone in your room and just chill.
The only sound you'll hear is the clicking of your keyboard as you type away.
One thing I must say is that blogging is not the fastest way to make money.
You will have to take the time to research blog post ideas, write and structure posts, plan social media posts and build your audience. 
You will need to dedicate time and effort to start making money – but it's definitely possible.
Just in case you're still hesitant, this mom makes around $20,000 a month with her blog that's all about motherhood.
In order to make money yourself with a blog,  it's best to start with an affordable host that will make sure your blog runs correctly.
I have a thorough guide that shows you how to start a blog and make money with it. 
Taking a few free blogging courses like these ones will help to make your blogging journey much easier. 
2. Create a Course
This is an awesome way to showcase your skills as an introvert especially if you're an expert in something.
Think well about something that you're really good at. Do you think you could create a course in this area?
It could be teaching how to draw, how to sell digital products online, how to make money on Etsy, or even learning how to dropship.
Creating courses around something you love that other people can benefit from is a great way to make passive income online.  
It can also open additional avenues for you to make money.
For example, some course creators who do well can get partnerships with companies to do follow-up courses. 
When you record a course, it will keep making money no matter what platform you promote it on.
A few places to submit your courses are:
These platforms are rated very well online and give you complete freedom to turn your expertise into money.
3. Sell T-shirts
Do you want a side hustle that not only pays well, but is super fun?
Selling T-shirts is one of the best ways to do this. 
Best of all, you can get started completely free of cost or start your own online T-shirt Business with a bit of investment.
T-shirt businesses are really exploding right now so it's one of the best side hustles for introverts to take advantage of. 
While it might sound like a hassle, making T-shirts is not that hard.
If you want to get started with making and selling your own T-shirts, you can start with design tools such as Canva or PicMonkey. 
You can use them to create text-based designs or illustrations and then you simply upload your designs with a Print on Demand store.
A few that I can recommend are:
They each have various upload requirements such as the size of files, but apart from that, there aren't many differences.
These websites not only allow you to print your design on T-shirts, but you can also sell them on mugs, stickers, tote bags, hydro flasks, and more!
Both text-based design and illustrations work well, but not everyone is great at designing. 
You can purchase illustrations and SVG's from Creative Market and Design Bundles for very low prices. 
I look at making T-shirts as a pretty stress-free job for introverts that can be done from anywhere, as long as you have a laptop and internet connection. 
4. Creating and Selling Books
Do you enjoy reading or collecting books?
You might not know this, but there's a popular side hustle for introverts to make money by creating and selling books online.
It requires no communication with a publishing company or even a ghostwriter.
You can actually create your own books on a computer with a design tool.
This is all possible with the Amazon KDP platform, which allows aspiring authors to self-publish books.
However, for this side hustle, you won't need to write a single word. That's right! Nothing!
That's because you'll be making low content books that have little to nothing in them.
This includes commonly used books such as journals, planners, guest books, and sketchbooks.
So, the customer will be doing most of the writing.
These books sell really well on Amazon and some publishers of low content books make anywhere from $1000- $5000 doing this.
There really is no limit to what you can make, as it depends on how many customers actually buy your books
. Once you make a book, it will stay on Amazon's website and you can make passive income from it.
So the sky's the limit with this one.
If you're worried about how to actually get started making your low content books, I have an in-depth guide that shows you how to:
Choose a low content niche 
The best SEO platforms for research
Tools for designing your books
Canva tutorial for creating a simple journal
This is a good side hustle idea for introverts who like to design and enjoy creating projects.
5. Sell Designs
Are you good at making illustrations? How about drawings? If you possess these skills, you can certainly earn extra cash or even make a business out of selling your own art.
While it might seem like people are not buying art these days, or you have to be a prolific artist to sell them, there are various places to sell your designs for money.
You can open your own shop:
Opening a shop is free for all the options I listed except for Etsy which requires a listing fee of $0.20 for each art piece you upload along with other fees listed here.
There are lots of people looking for design elements for their projects and will pay for these designs.
This allows you to make a bit of passive income on the side, and in most cases, you don't need to take care of inventory unless you're selling handmade items. 
In order to sell designs, you don't even need to be an artist but you can learn with online classes on Skillshare or Udemy to become a self-taught artist.
There is a range of items you can design including: 
Fonts
Procreate Brushes
SVG's
Illustrations
Vectors
There will always be a market for these designs because graphic design is a big business and it will never go out of style.
People need designer skills for their blogs, T-shirt business, marketing projects and so much more!
I promise you will not regret this awesome side hustle because you can literally start it for free.
Try creating some designs and setting up your shop on Creative Market or Design Bundles.
If you want to branch out after you've made a name for yourself, you can always start a business using Shopify.
The choice is yours and that makes it so much better!
Best Side Hustles for Introverts to Make an Active Income
So now that you've gotten some of the best side hustles to make passive income,  we can get started on the side hustles for active income. 
Active income is money you make while working actively and this is what most people do daily.
Unlike passive income, it does not allow you as much flexibility, but it's still great because you can work part-time as well. 
Here are a few of them:
6. Freelance Writing
Would you like to get paid just for writing?
Millions of people around the world are making money by doing freelance writing and many of them are introverts as well. 
As an introvert, you can start doing freelance gigs on Fiverr and build your portfolio.
As you start getting more projects you may be able to get your own clients and there's no need to communicate by phone.
A simple email will do.
You can gain clients from all around the world and work whenever you want as long as you complete your projects on time.
Clients can be anyone from bloggers, website owners, or companies that need writers consistently for their business. 
Freelance writing has the potential to turn into a  business that makes a full-time income once you learn the right skills. 
You can provide freelance services such as:
Technical writing
Copywriting
Ghost Writing
Content Writing
Ebook Writing
The choice you make about choosing what freelance gigs you choose will depend on your writing style and also what you love. 
If you do want to get started with hand-screened freelance jobs, check out FlexJobs today!
7. Proofreading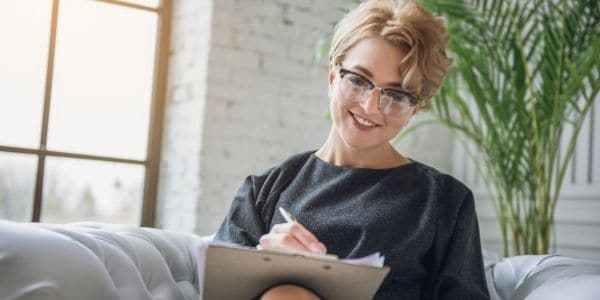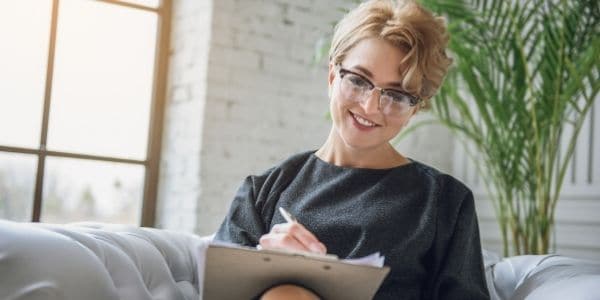 This is another online job for introverts to work alone and earn an income.
Proofreading and editing jobs require that you have a critical eye when it comes to grammar and punctuation.
If you cringe at grammar mistakes like 'they're' and 'their' nuances then this side hustle might just be for you.
Self-publishers, bloggers, entrepreneurs, and other business owners need proofreaders to get their documents into tip-top shape and make sure they're error-free.
That's where you come in.
You can get a pretty decent amount of money being a proofreader with the average annual salary being around $53,000!
If you know absolutely nothing about proofreading, but would like to start, Caitlin Pyle from Proofread Anywhere has created a really thorough course.
You'll learn all about how to land clients, market your services, and of course how to proofread. 
Learn more with this free webinar.
8. Chat Jobs
Chat jobs are great for introverts because you never have to talk on the phone. While you're still communicating with people, it's just a simple correspondence of lending a helping hand without too much interaction.
Chat jobs have become increasingly popular as most people can manage to get customer service without being on the phone. 
You can earn a decent amount of money working from home as a chat agent with companies such as:
Another nice side hustle is answering questions as a trained professional on Just Answer.
This is a website that caters to people who want their questions answered by professionals in various fields.
This can include medicine, mechanics, finances, and animal care.
You can sign up with Just Answer by creating your profile and uploading your certificate in whatever field you're in.
Get started with Just Answer and make up to $7,000 a month answering questions. 
9. Online Researcher
 While you may not make huge amounts of money from this job, you can still make a decent amount of income. 
This job requires surfing the web and doing research to get paid.
Working as an online researcher only requires a laptop, high-speed internet, and knowledge of how to research. Once you possess these skills, you're all set. 
One way to get started with this hustle is through Wonder.
How it works is that Wonder allows companies to make research requests for a particular topic.
You will be the one to find the answer for this topic.
However, your answer will need to be well researched, detailed and comprehensive.
When you work as a researcher for Wonder, you can make as much as $30 per question.
10. Transcription
Are you a fast typer? You could try working from home as a transcriber by typing the audio that you hear.
Earn money by working online as a general, legal, or medical transcriptionist.
While transcription is not super-hard, there is a learning curve if you're new to it.
It involves typing words accurately – meaning a lack of spelling, grammatical or punctuation errors.
Making money by working as a transcriber also means being able to type at a fast rate and complete tasks at a certain interval.
This is because the clients that make the requests usually want their projects completed at a certain time. 
There are several places to sign up and start earning cash as a transcriber such as:
At Go Transcript, their top transcribers earn around $1,200 a month which is not too bad for a side hustle! Sign up with GoTranscript today!
Best Side Hustles for Introverts to Make Extra Money
Introverts can also make some extra money on the side by doing some easier gigs.
Here are a few that are fun and easy!
11. Watch Videos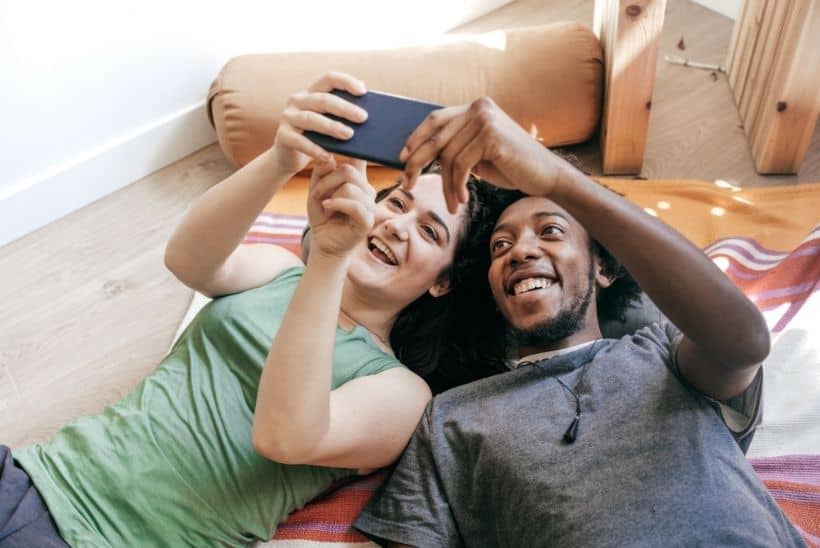 If you enjoy watching videos, then this one's for you.
Not only will you be doing something you enjoy, but you'll also be earning some quick cash.
I highly recommend using Swagbucks to earn rewards for watching videos and surfing the web.
There are various types of videos for you to watch, but they will mostly be short clips such as viral videos and ads. 
As I mentioned before, this is a simple and fun way to make extra money, and it will not lead to a full-time income.
Joining various websites like Swagbucks can quickly make the money add up.
Join Swagbucks and start earning cash!
You can also earn money with:
12. Complete Surveys
Another way for introverts to make extra money is by doing surveys.
Surveys are really popular online and millions of people take surveys because they're so easy.
You must be wary though because there are tons of online scams out there that will trick you into doing tasks that will never pay.
Survey Junkie is a legitimate online platform that is totally free to sign up for and start earning money by taking surveys tailored to your profile.
You can do surveys whenever you feel like it by just heading to your phone and hopping onto the platform
Start earning with sites like:
Want more survey options? These 40 survey sites can help you make extra money fast!
13. Mystery Shopping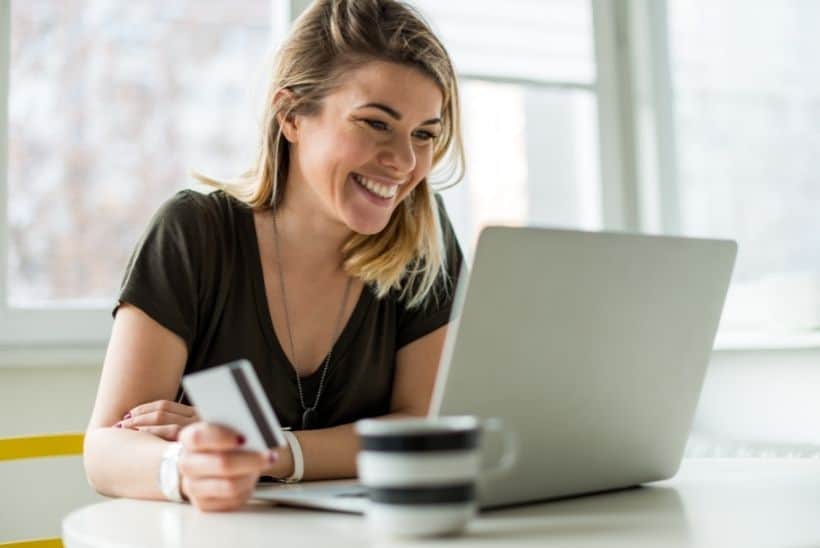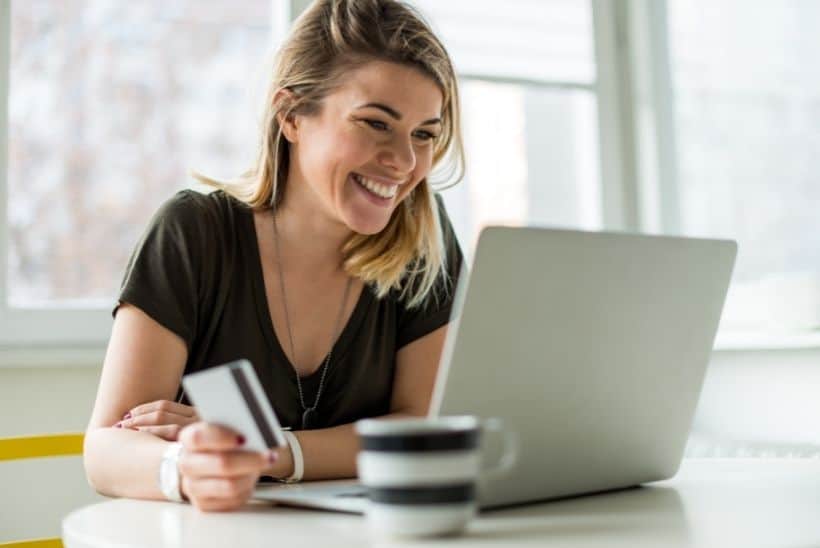 Did you know that you can make money by shopping online? Yes, it's true! And this side hustle allows you to use products and make reviews for free.
Panel Place is an online platform that allows anyone online to give reviews of digital products and earn money for their honesty.
There are several categories to choose from including:
Entertainment
Finance
Earn Money & Rewards
Learning
Lifestyle
Productivity
Entrepreneurship
Health & Fitness
'Users have mentioned that the site is 'rewarding', 'trustworthy', 'has legitimate companies', and 'good opportunities'. 
Panel Place is the ideal place to start making extra money as an introvert because it's hassle-free.
Sign up with Panel Place today!
14. Give Your Opinion
Make extra cash online by simply giving your opinion.
This can come in the form of surveys, panels, and group discussions.
For introverts who want to avoid too much interaction, you can still do all of this in a relaxing quiet space, perhaps at home. 
One of the best ways to make money doing this is with Opinion Inn. You can even earn a $10 bonus by signing up with them!
Once you head over to their site, you simply register, create your profile and then start giving your opinion.
Opinion Inn will send you regular email invitations on products and services where you can make up to $100 for completing a project.
This high incentive model is not found on most survey sites, so I recommend signing up with them as soon as possible.
Sign up with Opinion Inn and claim your $10 bonus!
Try sharing your opinion on Opinion Bar, Opinion Champ, Opinion Bureau, and Opinion Network for extra money!
15. Book Reviews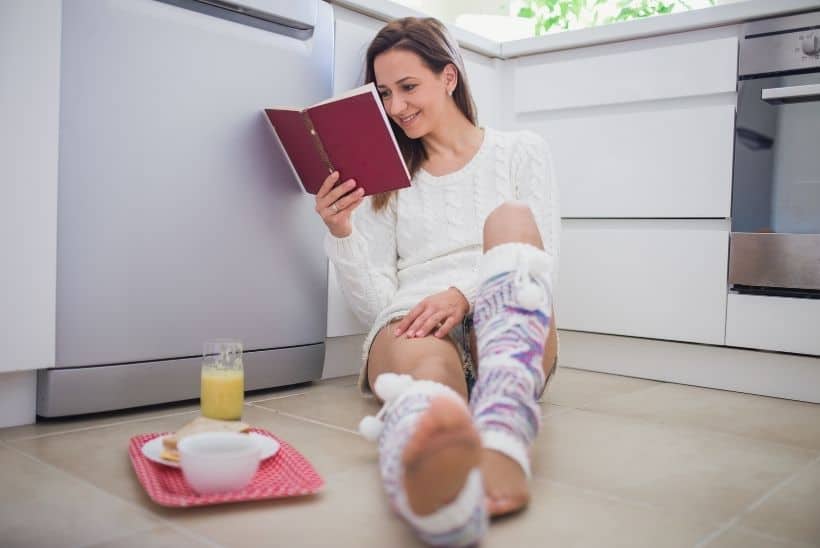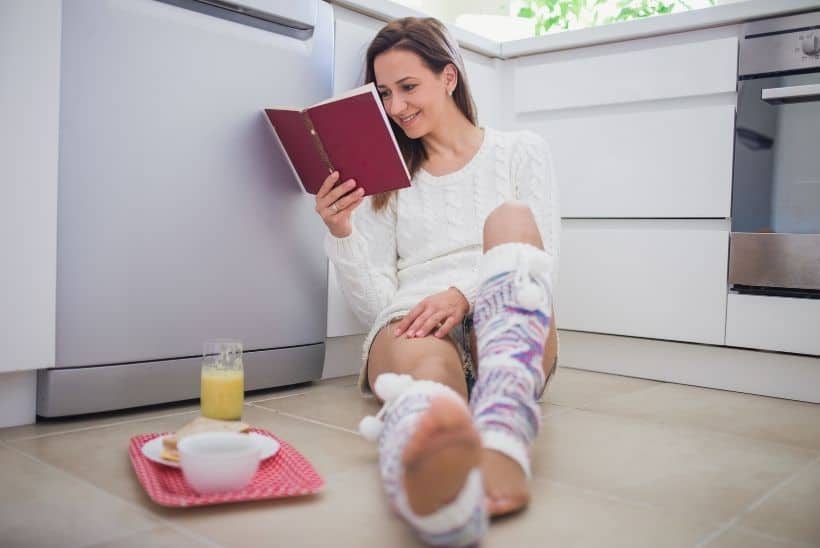 Isn't this just a fun activity to do in bed? I mean yessss! 
While not all introverts love to read, some certainly do and they can make a quick buck by doing book reviews online.
There are many websites that will pay people to do book reviews.
Book reviews will come under a range of genres and generally, a book reviewer can choose the genre they like best.
Here are a few places to get started with book reviewing:
Kirkus Media
Any Subject Books
Online Book Club
Women's Review of Books
Instaread
Are These the Best Side Hustles for Introverts to Make Money?
That's totally up to you!
This list of the best side hustles for introverts does come jam-packed with jobs and gigs to make passive income, active income as well as extra money.
I tried to find something that could work for just about anyone.
While some introverts would prefer something like blogging which makes passive income, another person could prefer to make just a little extra money each month.
Either way, these are all awesome ways for anyone to make money online without too much hassle.
These jobs are also very flexible and can work around your schedule.
Let me know which one of these side hustles was your fave in the comments below!
If you liked this post please PIN it for later!❤️️????