This post may include affiliate links.
Homeschool moms have a pretty tough schedule. I'd know because I'm one as well!
Depending on what the day is I could be teaching various subjects like Math or English, doing crafts or painting.
I only have one son, so my schedule is a little less hectic than other moms who have multiple kids.
But, if you're a homeschool mom who wants to balance work with homeschooling, there are plenty of work-at-home jobs available.
It will take a bit of creativity and patience, but you can work from home with kids even as a super busy homeschooling mom. I've done it, so just about anyone can do it!
If you're ready to learn how to make money from home, let's get into 8 practical work-at-home jobs for homeschool moms.
Please share the ❤️️ and PIN this post for later!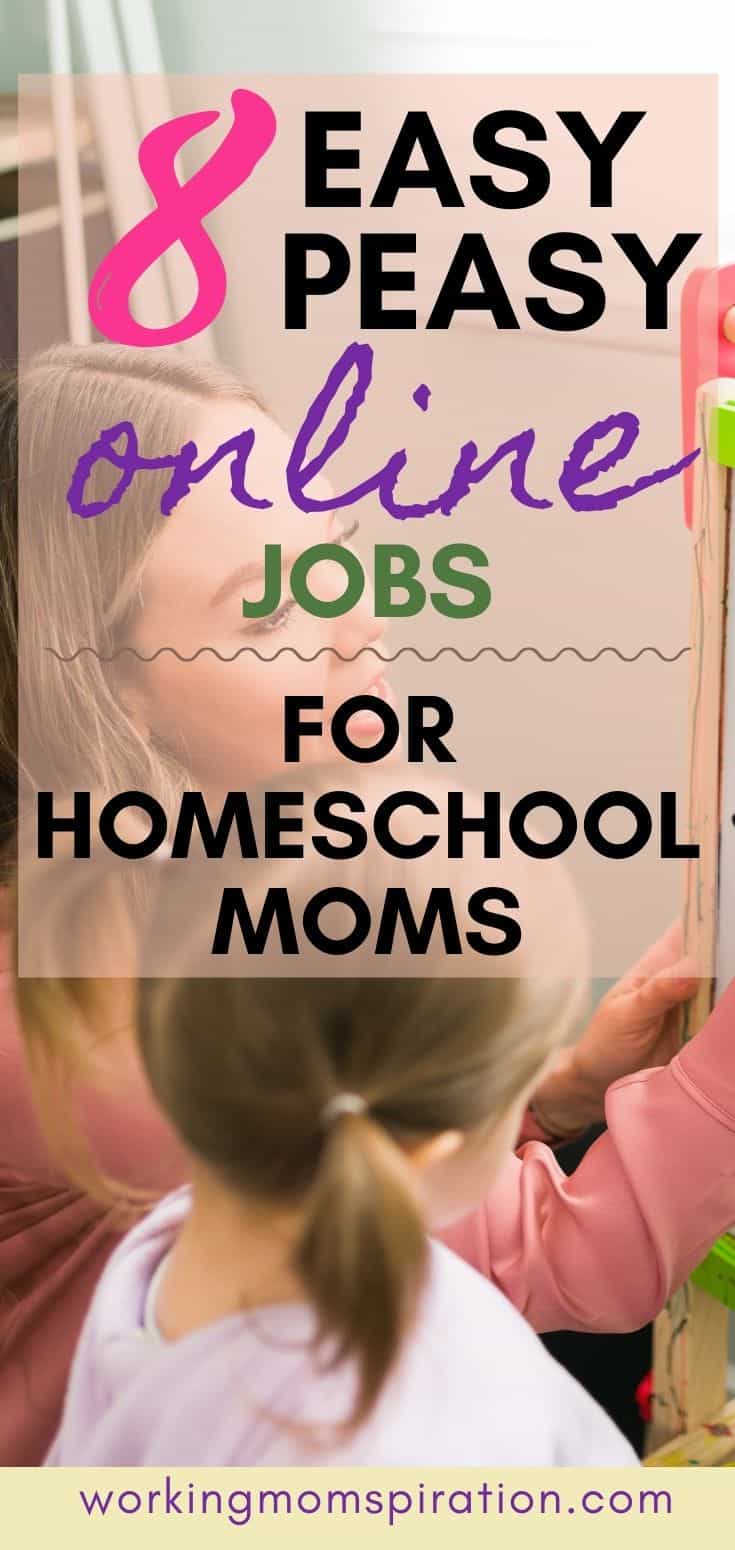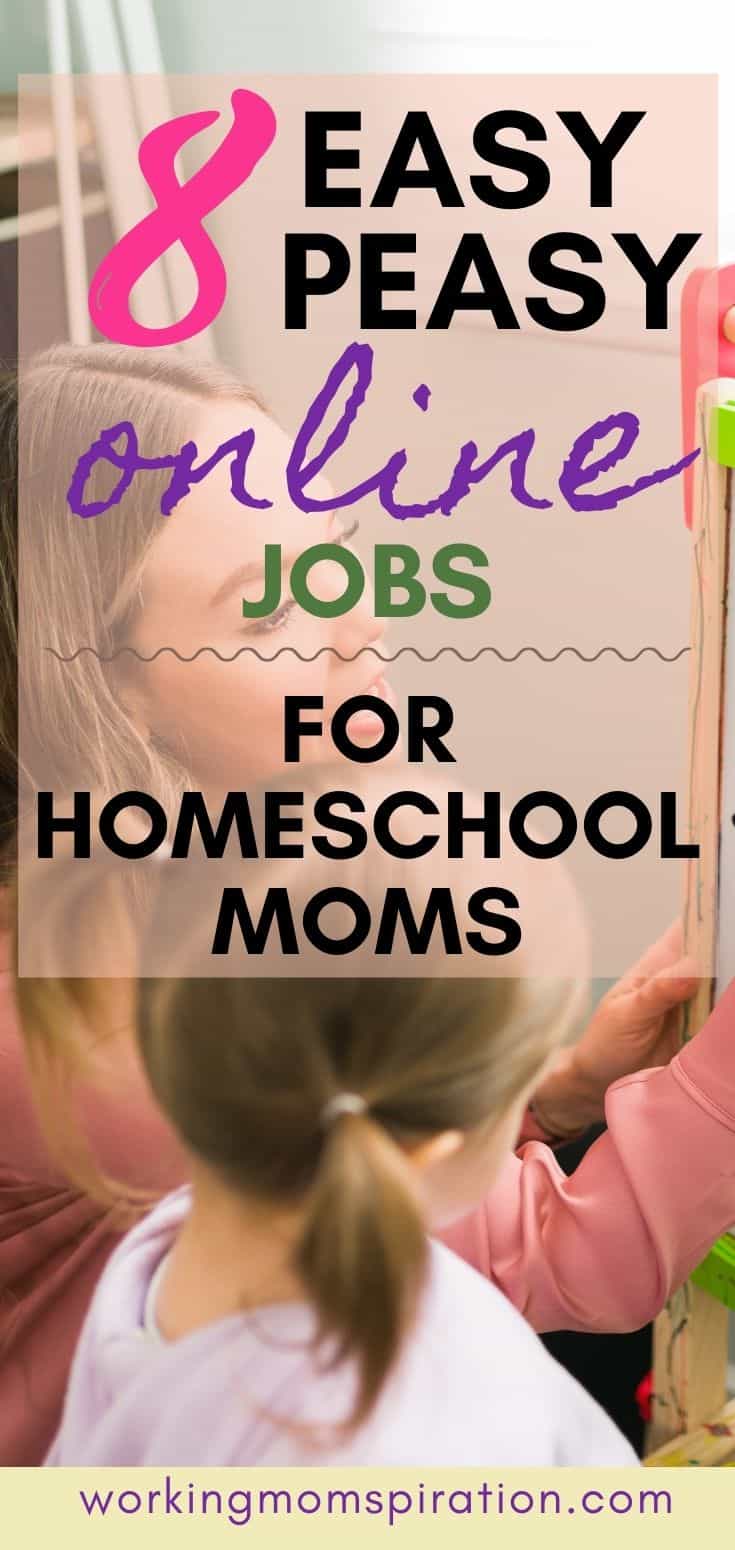 Practical work-at-home jobs for homeschool moms
1. Blogging
I will list this option first because I can guarantee that it is the most practical!
I say this because with blogging, YOU are your own boss.
Blogging allows you to choose your own schedule and therefore you can work whenever you want!
So, if you do homeschool every day, you can choose specific times throughout the day when you work on your blog. 
If you have younger kids like I do, then that will look a bit different than a mom with older kids.
What I do is work super early in the mornings so that when my son does wake up, I can take a well-deserved break from blogging and get started with my homeschool day.
But still, are you struggling with the idea that starting a blog will be very complex?
Let me tell you now that it is not.
You can literally set up your blog in a matter of minutes with Bluehost.
Bluehost will host your blog and you can easily build set up your blog with them in no time.
This will involve choosing a blog name, selecting a gorgeous theme, and connecting your blog with WordPress.
Still confused?
Here is a step-by-step guide on setting up your blog in a matter of minutes.
Of course, the most fun part about blogging is making money.
You can start out by doing affiliate marketing which is promoting products to your audience.
If your blog is geared toward other homeschool moms, you can promote curriculums and school supplies to moms that will help them on their homeschool journey.
This is a fantastic way to earn cash from home, and the best part about it is that it involves passive income.
So if you're ready to invest in a blogging career, sign up with Bluehost today and get an awesome discount!
2. Sell educational Printables
Did you know that you can make thousands of dollars by selling printables online?
And guess what?
You only have to make it once!
You have the advantage of cornering the market as a homeschool mom if you can design and sell educational printables.
I mention this because a lot of moms make their own printables for their homeschool.
If you're one of these moms, you should think about reselling these printables online for profit.
There are various places to sell printables such as:
Your own blog
Etsy
Teachers Pay Teachers
Once you upload your designs, you're all set. You can leave them and earn passive income continually.
You may have to do some customer service on Etsy if the customer has issues with downloading their file, but apart from that, you won't have to do much upkeep.
If you don't know much about designing printables, you can get inspiration from other Etsy sellers and create something that people need, but you're not seeing much of.
If there isn't a large market for a particular printable, I'd recommend creating something along those lines if you realize it's in high demand.
And remember you're not limited to educational printables either. You can also create:
Wedding Planners
Save the Date Cards
Habit Trackers
Meal Planners
Daily Checklists
Chore Sheets
If you don't have tools like Adobe Photoshop or Illustrator, Canva will do just fine as lots of people use it to make printables to sell online.
Design Printables with Canva and start earning!
3. Freelance writing
Freelance writing is one of the most ideal work at home jobs for homeschool moms because you can make full-time income from it.
I've done freelance writing and I find it to be so flexible and rewarding.
You can work when you choose and you don't have to be tied down to a desk all day.
Before starting your freelance journey, you'll need to think about what type of writing you'd like to do.
Do you enjoy doing creative writing, or would you like to promote business ideas and services?
Depending on your passion for writing you may choose to do content writing or even become a ghostwriter.
Some writing gigs may take a longer time to execute than others, so you will need to research before entering any writing career. 
You'll also need to know that this is something you can do long-term and if it can fit in your schedule.
Ghost writing is something that may take time especially if you're just a beginner.
If you would like to start a few freelance gigs as a writer without any investment, I recommend these 32 parenting blogs that are great for moms to make money!
4. Proofreading
Are you that person, who's always spotting errors on menus?
Do you get annoyed when you see spelling mistakes in your favorite book? If that's the case, you might just love this side hustle. 
Proofreading is another flexible online job for busy homeschool moms.
Proofreading involves correcting spelling errors and grammatical mistakes in books, documents, and other written work.
As a homeschool mom, you've no doubt corrected lots of typos in your children's homework, so you will have an idea of what to do!
You can earn a decent income as a proofreader too – about 40,000 a year!
Not too bad for a side hustle right?
Keep in mind though that the income you earn will depend on the amount of time you put in and how much you're able to work.
Someone who works as a proofreader full-time may earn more than someone who works part-time. 
Proofreading is one of the best work-at-home jobs for homeschool moms because whenever your kids are on a break, you can start proofreading and work on your time.
Want to learn how to make money proofreading from someone who's already done it?
Sign up for this free proofreading course with Caitlyn, who's made thousands from proofreading herself!
Sign up for her free proofreading course today! 
5. Transcription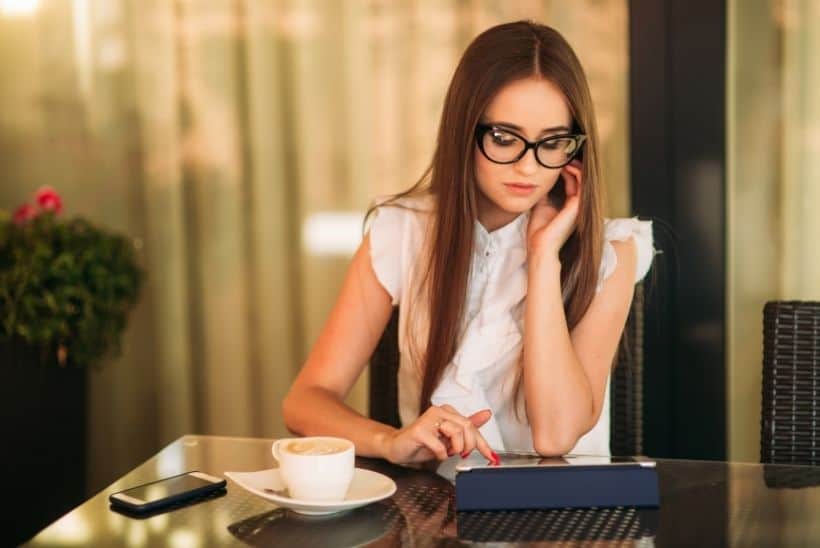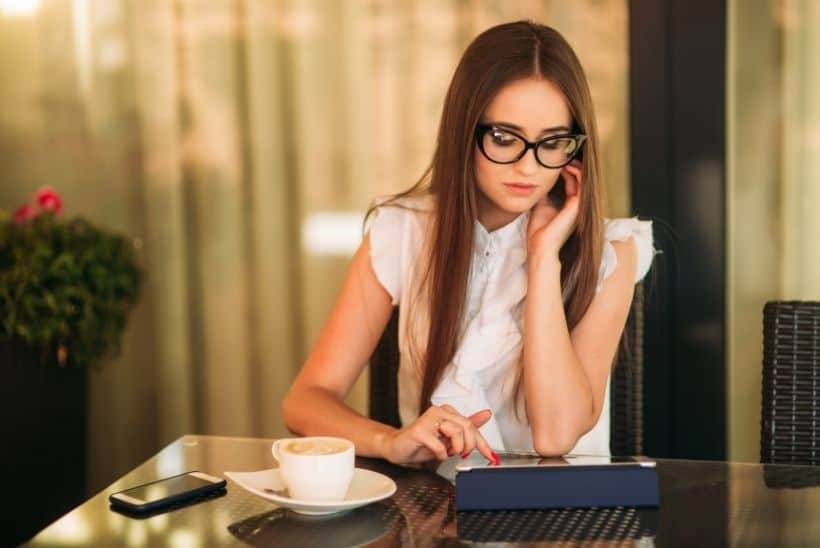 This typing job is a really convenient one because you can get started even as a beginner.
 A few of the skills you need as a transcriptionist are:
Fast typing speed
Attention to detail
Excellent spelling and grammar
In order to make money from this job, being able to type really quickly without a ton of errors is essential.
Most transcription companies will pay by the audio hour and not the actual hours you work.
This may be a problem for persons who type at an average speed because deciphering the audio may take time and it can be really discouraging when you're not seeing all the hard work you put in being rewarded.
While typing itself may be easy for your own personal use, when it comes to a job like transcription, you will need to be fast.
If this is something you'd really like to do but your typing speed is not up to scratch, you can always practice online to improve your odds.
It might seem simple, but it does help some people.
Want to get started with a transcription job now? Check out Go Transcript, as they're always accepting new transcriptionists! 
6. Teach English online
Even though you're already teaching at home, you might think it's a horrible idea to teach other kids.
But hear me out!
Tutoring is the next best job that can earn you around $62,000 a year!
And yes, you can try this part-time and even work while the kids are asleep.
A lot of companies offer tutors the opportunity to teach English online to children in countries like China.
In the developing world, English is a force to be reckoned with and many parents want their children to learn it. 
That's where you come in.
 As someone who already teaches, you are the perfect candidate to instruct other children and equip them with the tools they need to learn. 
You will be able to work online and choose shifts that are convenient to your schedule.
And because most tutoring companies have clients who live halfway around the world, most shifts may be early in the morning or late at night.
This way, it won't disrupt your homeschool schedule. 
7. Pinterest Manager
Do you love being on social media? Are you handy with creating riveting social media posts?
If so, you could branch out as a Pinterest Manager.
If you know anything about Pinterest, you understand that it's one of the most popular social media tools out there.
It's more like a search Engine if you ask me, but hey, it gets stuff out there!
Pinterest's use as a business tool has been growing exponentially for some time now.
That's because content creators and bloggers like myself use it to create pins that people will eventually click on that leads to our websites.
And that means traffic traffic traffic – a blogger's best friend.
You can get hired as a Pinterest Manager to make and schedule pins for your clients who either are too busy or don't have a handle on the platform enough to do it themselves. 
Most people take a free course online to learn how to get started in this role, but in order to really make it, and dive in deep, you might want to try investing in a course that shows you the practical side of Pinterest Marketing. 
One tool you will also need if you're handling clients is Tailwind. Tailwind allows you to schedule pins months in advance and it even has a feature called Tailwind Create that helps you create pins from scratch easily.
I use Tailwind myself to get more people seeing my pins!
8. Selling Crafts
Last but not least, the final work at home job for homeschool moms is selling crafts online!
In case you thought this was something that's been overdone, let me tell you now, that crafts are selling. 
As a homeschool mom, you can take advantage of this by making crafts that are geared toward other homeschooling, or you can try selling in other niches.
A great place to find inspiration is Etsy. When you check their website you'll find a wide array of products that are both handmade or digital.
One of the most popular crafts to sell online is wall art.
This can be Christian wall art, minimalist wall art and even educational wall art.
What are some things that you do in your own homeschool that you could transform into wall art?
It could be a collection of sea creatures with their names to identify them or even positive affirmation for kids.
One of the great things about Etsy is that you can sell these products digitally.
Using a tool like Canva, you can create a beautiful wall art piece and simply upload it to your listing on Etsy and start selling.
If making wall art isn't your thing, here are 25 profitable crafts to make and sell online!
How to find legitimate work-at-home jobs for homeschool moms
As a homeschool mom, I know just how tight your schedule is and in order to find scam-free jobs, I've enlisted a few places that you can find jobs online.
Of course, you should always do your own research before trying any job site.
Here are a few I recommend and trust:
Flex Jobs – The ideal site to find legitimate hand-screened jobs in a variety of fields.
Virtual Vocations – Want to work from home? You'll find hundreds of hand-picked jobs just for you!
Remote Co – Great website for finding remote jobs in technical and writing.
We Work Remotely – Work from just about anywhere as a freelancer!
Fiverr – Start your own online business by outsourcing your talents!
That's it for this post folks! Making money online as a homeschool mom doesn't have to be hard.
With this list of work-at-home jobs, you can set your own schedule, work from anywhere and make money the way you want!
If you liked this post, please PIN it for later!????❤️️