This post may include affiliate links.
Did you know that there are lots of flexible side jobs for single moms to try at home?
 Side jobs or side hustles as I like to call them, are perfect for making money on the side without having to worry about spending a whole hectic day commuting or sitting in a cubicle all day.
(I mean who wants that?)
The side job ideas I'll go through today require just you and your laptop (for the most part).
More and more stay-at-home moms and even moms who work outside the home are looking for convenient ways to make money.
Having a flexible side hustle as a mom is an excellent way to balance your family life while earning a stable income.
When I left my soul-sucking 9-5 job, I jumped into a side hustle right away.
I started out by doing freelance writing and loved it so much!
But this isn't about me.
Let's get YOU started on some of the most creative side jobs for single moms that are convenient to do at home!
Remember to PIN this post for later to your Side Hustle board!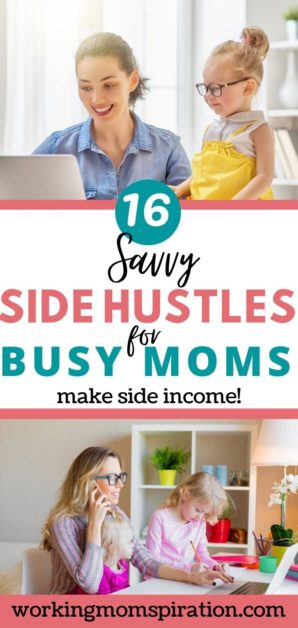 What are Side Jobs?
A side job is any type of income you make in addition to your full-time job.
However, these days moms can turn their side job into a full-time income stream without working the 40-hour work week!
Usually, a side job is done on a freelance basis and will not require enormous chunks of your precious time.
You've got kids to wrangle in, am I right?
People start side jobs for a number of reasons, but in most cases, it's done to supplement their income. 
Side Jobs for Single Moms: Why try them?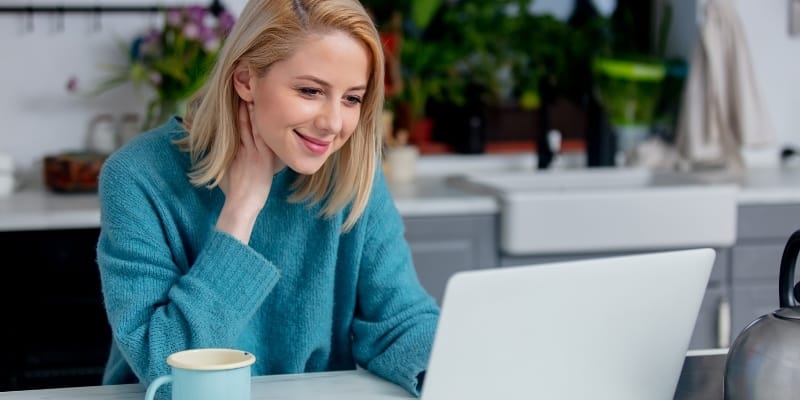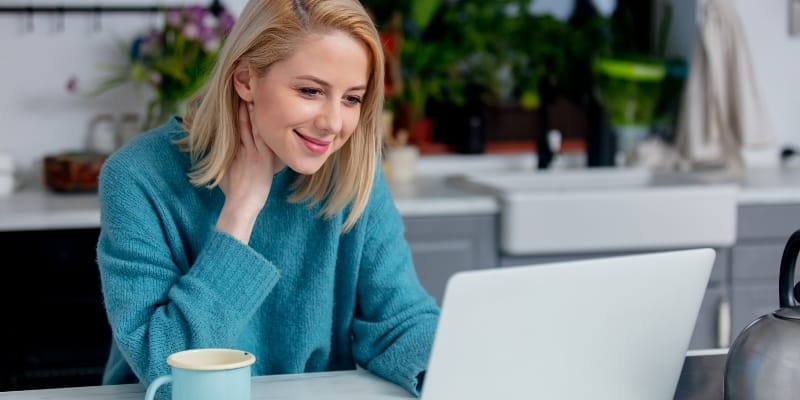 You should choose to have a side job from home because they have so much potential to make you money!
I'm not talking about an extra $500 a month. No, I'm talking like $5000 a month!
Another bonus is that you can do it anywhere! I love working from home myself because it's so convenient.
For busy moms, starting a side job is great for so many different reasons which include:
The flexibility
Earning potential
Work anywhere
Stable income
Work and travel
More time with your family
Choices, Choices, Choices
So whether you want to add some extra money to the family finances or help to pay off debt, these side gigs are a great way to start making money from home!
Creative Side Jobs for Single Moms
1. Blogging
Blogging is one of the most creative side jobs for single moms to do at home.
While it's by no means easy, it's actually like having your very own business.
You are your very own boss and you will be making all the decisions.
If you feel like you have great ideas that can truly help people, starting a blog is a great way to do that.
Blogging allows you more freedom because you can work when you want, and how you want.
Now hear me out. Blogging isn't for everyone, and there are days when you will want to pull your hair out.
Believe me, I wanted to a few times.
But it really is a lucrative side hustle that will keep the money rolling in, once you add more revenue streams.
Bloggers make money with their blogs through:
Ad revenue
Sponsored Posts
Selling Digital products
Offering courses
Coaching services
And more!
This couple makes $500,000 from their blog each year, which really astounded me!
You too can achieve something similar if you educate yourself on blogging and work hard on it.
If you really want to get into blogging and you want to start now, I recommend starting a blog with Bluehost.
They have great customer service, and a money-back guarantee and they connect you to the WordPress platform for free!
2. Sell Lightly Used Clothing
Do you have any clothes that have hardly been used and are in great condition?
You can make money by selling these items online! 
I think this is a great side hustle for moms because you will be making money without paying anything.
You may have clothes hanging in the back of your closet that you've forgotten about. Turn it into money! 
There's no reason why you should wait for your next spring-cleaning binge to get rid of all your clothing.
Get ahead of the game and start clearing out that closet right now.
Just make sure these items are still in good condition. Don't go selling that little black dress with deodorant stains to these good people ???? 
Once you've sorted out exactly what you're gonna sell, there are a few places I recommend for getting the best prices on selling second-hand clothing.
Some good places to start are:
One great tip to remember is to ensure that your items for sale are washed, neatly folded, and packed in an appropriate hamper or travel bag.
After all, presentation does count, and it would be nice to create a long-term business relationship with these buyers. 
3. Trade in Items
Like the previous mention on this list, you'll be making money from your old (or new items), but this time you'll be trading them in. 
You'll like this as a side job because you're getting rid of unwanted stuff, decluttering, and making more space in the house while getting some extra money from it. Win-win! 
If you have nothing to trade in right away, you can take a quick look in your garage for some things you bought and never used.
Another idea is to check out your kids' rooms to get some nice toys they no longer use and add them to your list.
You'll want to check with everyone in the house first to make sure that they no longer want these items to avoid future tantrums and meltdowns.
(You'll never hear the end of it otherwise)
Here are a few tradable item ideas to get you started:
Books
Old clothes
Coat hangers
Jewelry
Video games
Furniture
Collectables
Fitness equipment
Shoes
These are just a few ideas to get you going.
Do a clean sweep of your house to see what else could be lurking there that you could make a small profit from.
You'll never know unless you try it.
4. Flip Old Furniture
Flipping old furniture is not just a great side job you can do at home, it's also a way to make a full-time income.
Yes! You heard me right.
You can make a full-time income from this side gig.
Some of these ideas may sound too bizarre to be true, but this is an awesome way to make money and possibly leave your 9-5.
The fastest way to get started with this is by taking the Flipper University Course that shows you how to flip furniture and turn it into a full-time business.
The creators of the Flipper University Course, Rob and Mel made more than 133,000 in their first year flipping!
You can follow this up by creating a Facebook business page and then you can get into the process of buying quality furniture.
Of course, this furniture will be old in the sense of being second-hand old, but not ugly, scrappy old if you catch my drift.
You can get deals on these at auctions, garage sales, flea markets, and thrift shops.
You can add your own flair with quality furniture paint, set up detailed descriptions with professional-looking pictures, and post these to your Facebook Business page. 
The last step: Start selling and watch the mullah roll in!
5. Sell Services on Fiverr
Sometimes there's no better way for creating a side gig than offering your skilled or professional services online. 
With most side hustles, you have a flexible schedule and you can work even while the kids are sleeping.
That's one of my favorite times to work as well!
I can work freely without anyone asking me to get the popsicle wedged in the back of the freezer. 
If you've never heard of it, Fiverr is a platform where you can make money by doing professional services for people.
If you have a skill in Graphic Design you can set a price and make money on a freelance basis.
Graphic designers can make between $100 – $3000 based on their level of expertise.
If writing is more your thing, there's a place for that too.
There are so many things you can do on Fiverr that it makes it a nice place for working without a set schedule. 
6. Do Surveys or Reviews
Surveys are usually fun, small tasks that you can do on the side without putting in a lot of work.
Usually, the payoff isn't that big, but if you sign up to a lot of survey sites, the money can add up pretty quickly. 
While this side job may not feel like work, you will be getting paid for playing games, searching the web, watching videos, and taking polls. 
I must warn you that there are a lot of survey sites that are not legit and will never pay you money.
But there are a few that will offer you rewards like gift cards and money for your views.
Check out these legitimate survey sites:
Another fun part about survey sites is that you can refer friends and make money from referrals, use the survey apps wherever you go, and even post links for cash.
7. Join Respondent
Respondent will pay you to take part in one-on-one consumer research studies.
This can be done either online or face-to-face. 
Even though it may sound like your usual survey site, this company has a more professional focus. 
What you'll do to get started is to sign up and enter your demographic information like gender, ethnicity, and so on.
They have various surveys but most are geared toward technology and business.
The payment varies based on the project but the ones I've seen pay you $50 and upward.  
Sign up for a PayPal account if you don't already have one because that's how you'll get paid.
Check out Respondent and earn money.
8. Make Money from Apps
Can you really make money from apps?
If you thought your phone apps were just for playing fun games and adding notes, you were wrong.
You can definitely make money from your phone apps as a convenient side hustle. 
You use your smartphone all day, why not take advantage of it?
Once the kids are having a bit of fun in the backyard, you can slip on your phone to make a little bit of extra money. 
One of the best apps is Rakuten. This app gives you cash back when you shop.
Acorns, on the other hand, invests your money so you'll benefit from it in the future. Wanna make money while you're running after the kids?
Sweatcoin pays you money for walking, or in your case running!
A few other apps to make money from are:
Foap – Sell photos or videos and make money.
OfferUp – Make money selling items
Mobee – Get money for mystery shopping
9. Do Voiceovers
Do you have a delightful voice you know other people would love to hear?
Well, if you like to talk, sing or do anything vocal, there are lots of work-from-home opportunities that you can do and get paid.
Doing voiceovers doesn't require you to work full-time.
This can be an easy side job that you can manage on a flexible schedule.
One way to do this is by offering your services on various platforms.
This will give you the exposure that you need and increase the likelihood of you landing a gig. 
A few places I recommend are:
10. Become a Brand Ambassador 
 Would you like to work for different companies as a Brand Ambassador? 
You can get paid or get some sweet swag just for endorsing your favorite company to your followers!
It's easy to do this either through work events on your social media or on your blog if you have one.
However, I recommend only endorsing companies that you really believe in and those that your followers will actually use.
The great thing about becoming a Brand Ambassador is that these jobs are actually on the rise.
It's a really nice side hustle that you can do even as a stay-at-home mom.
Some Brand Ambassadors actually make more than $40,000 a year!
Here are some companies to get started with as a Brand Ambassador:
If you'd like something more low-key, sign up as a product tester and get free stuff!
11. Test Websites
Though this might sound like only a tech geek's dream, just about anyone can test websites and make money.
What you'll be doing is completing short tasks like surfing the web, taking notes, and giving your opinion on how the websites work.
Companies will pay for feedback that is honest because it will help them improve user experience.
Some of these tests that you do can last anywhere from 5 to 30 minutes. 
Sign up for a few of these sites to get going:
12. Become a Social Media Manager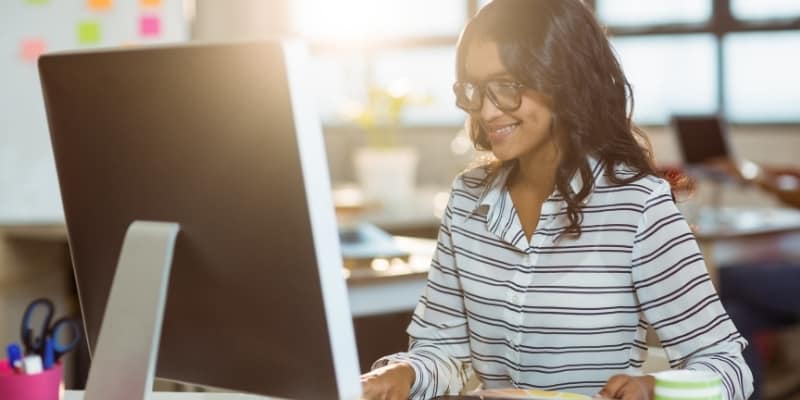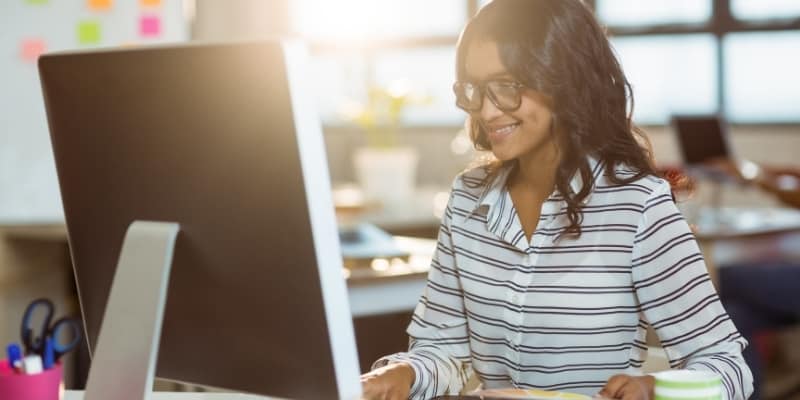 This can be a fun side job for moms who spend a lot of time using social media.
Social media managers are paid to manage the social media accounts of celebrities, businesses, or entrepreneurs.
Believe it or not, scheduling content can take a lot of time.
This is especially the case when businesses have a lot of social media accounts, running a demanding business, attending meetings and they just can't do it all! 
As a social media manager, you will be in charge of managing the Facebook accounts, Instagram accounts, and other social media platforms and fitting them with the right content, and marketing them to create leads or promote content.
Social media managers can make more than $50,000 a year! 
Remember guys, this is just a side hustle and not a full-time job!
The best way to start off is with a social media management course. Yes! Social Media Mastery is a course that will help you to master the most popular social media accounts and how to effectively market them.
You can find jobs on:
This will hopefully take you closer to snagging your first client! 
13. Sell on Creative Market
Creative Market is one of the largest marketplaces to get digital products and tools for your business or blog.
They have some pretty impressive designs that you can purchase at affordable prices.
However, if you'd like to become a seller on Creative Market, you can make a decent amount of cash on the platform.
Janna Hagan made more than $5000 with her shop selling digital products.
There is a range of products that you can sell too. A few that really sell well are:
Fonts
Icons
Illustrations
Canva templates
Social media templates
Website themes
If you're really creative and would like to start a flexible side job by opening a shop on their website, you can get started right here.
14. Sell Stock Photos
Do you ever look at a blog post with gorgeous stock photos and fall completely in love?
I have a few times, and they really make a difference when I'm reading an article.
Stock photos really do enhance the reader's experience and keep them wanting more.
If you have experience taking pictures and you do take really nice ones, you can think about selling your own stock photos.
There is a high demand from companies, bloggers, and entrepreneurs to get quality stock photos for their businesses. 
They are especially in demand around holiday times like Christmas.
Depending on where you sell your photos, you can make some pretty big bucks.
I recommend trying out the following websites:
15. Drop Shipping
Did you know you can make money selling products that someone else ships?
Yes. This is a thing now.
How dropshipping works is that you sell physical products without dealing with the inventory, and a drop shipper ships the products to customers.
The first step you can take toward this is setting up a website to take your orders and then partnering with a drop shipper that will ship your products. 
WooCommerce is one of the most popular shopping carts to use because it's free to set up and easy to use. 
As I said before, a lot of these side hustles can turn into a full-time business.
Dropshipping is one way to create a side job that you can make money from and turn it into a passive income stream. 
Dropshipping courses can give you all the basic information to set up a dropshipping business and added tactics to boost your conversions.
16. Rent Out your Car
Another easy side job you can do from home is making some extra money by renting out your car.
With this money-making idea, you don't even have to put in much effort. This is more like making passive income, but the easy way????
People who do this make an average of about $350 a month, which is a nice amount of extra cash in your pocket. 
I really love this side job because it's effortless and you're making money while doing it. Sign up with Getaround and start making some cash today!
Start a Side Job from Home Now
What are you waiting for girl? It's time to make some money with these awesome side hustle ideas.
While some of these only give you a bit of extra money each month, a few can really generate a full-time income.
Be sure to comment on your favorite side job listed here and let me know why!
If you liked this post, please PIN it for later!❤️️????