This post may include affiliate links.
Who doesn't use digital planners?
After all, using planners is one of the best ways to stay organized.
While many people prefer using traditional planners that require a pen or pencil, some love to use digital planners.
If you're a budding entrepreneur looking to make money online, would you like to know how to make money selling digital planners? 
In today's digital age, there are many opportunities to earn money online, and one of the most popular ways to do so is by creating and selling digital planners.
Not only are they practical, but they're also environmentally friendly, as they eliminate the need for paper planners. 
Today, we'll dive into some of the best places to sell your digital planners and make money passively.
If you're ready to learn, let's roll!
What are Digital Planners?
For those who don't know, digital planners are like your trusty sidekick for staying organized and on top of things, but in a digital format.
They're virtual versions of those good ol' paper planners, but with some extra bells and whistles. Instead of flipping through physical pages, you can easily navigate through different sections and features on your device.
Types of Planners to Sell for Cash
Daily Planners
Weekly Planners
Monthly Planners
Yearly Planners
Goal Planners
Productivity Planners
Habit Trackers
Financial Planners
Meal Planners
Fitness and Wellness Planners
Travel Planners
Academic Planners
Creative Planners
Bullet Journals
Specialty Planners
Which is best? Take your pick and design your heart out!
PIN IT!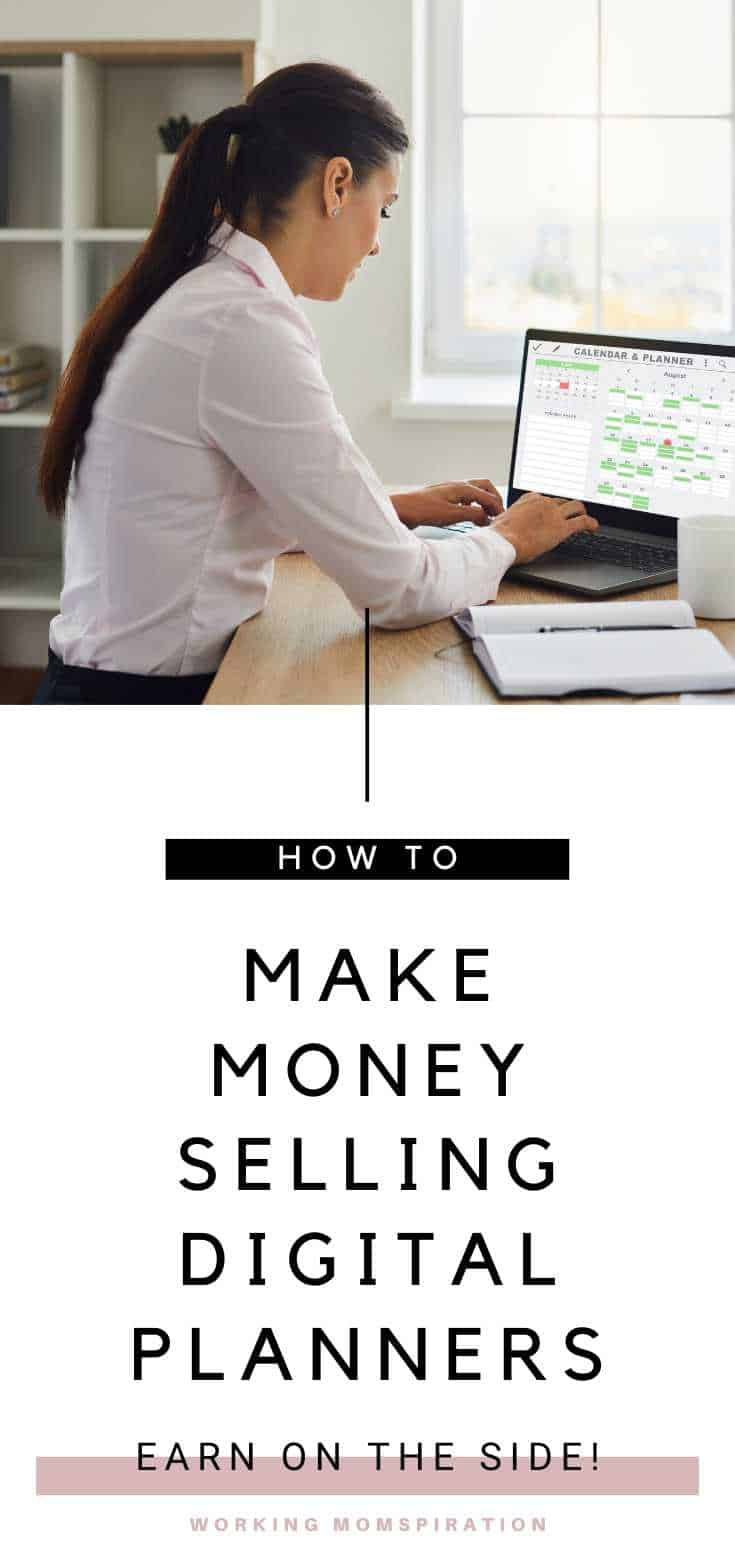 How to Make Money Selling Digital Planners
1. Sell Digital Planners on Etsy
You probably knew this one was coming!
Etsy is one of the most popular places to sell digital planners right now. 
You could make it BIG, if you choose a low-competitive niche and start selling on the platform.
With a huge selection of designs and styles, you're sure to find a niche that suits you. 
Many Etsy sellers offer customizable planners, and you simply have to scroll on the website to get ideas. 
You can also use a keyword tool to get other keyword ideas and create planners from these words.
Setting up your shop isn't that hard either and it's free! 
Choose a catchy shop name that reflects your style and then showcase your products!
I must tell you that visuals sell on Etsy, so you will need to create stunning mock-ups and write engaging descriptions that will captivate potential buyers. 
And don't go overboard with your prices either. Too high and customers will flee; too low and they'll think the product is low value.
Instead, look at what competitors are doing and try to find a sweet spot. 
An effective strategy for driving sales is to offer bundle deals or discounts for customers who purchase multiple planners at once.
If your products are high-quality you'll start getting 5-star reviews in no time and this will help push your shop even further. 
2. Create Customer Digital Planners on Fiverr
Have you ever used Fiverr?
If not, now's the time to make money on your own time.
Fiverr is the perfect place for freelancers to work and earn money while doing what they love!
Selling digital planners is no different.
The platform allows you to showcase your skills and connect with clients who are looking for custom digital planners. 
With Fiverr, you can set your own prices, choose your own projects, and work on your own schedule.
Remember that there's a high demand for digital planners, especially as more people transition to online work and organization. 
You can offer a variety of planner designs, from daily and weekly to monthly and yearly planners. 
You can also include custom features such as habit trackers, goal-setting pages, and meal-planning sections. 
Using Fiverr, you can market your services to a global audience, build a portfolio of satisfied clients, and grow your business over time. 
This freelancer is doing just that!
3. Sell Planners on Your Blog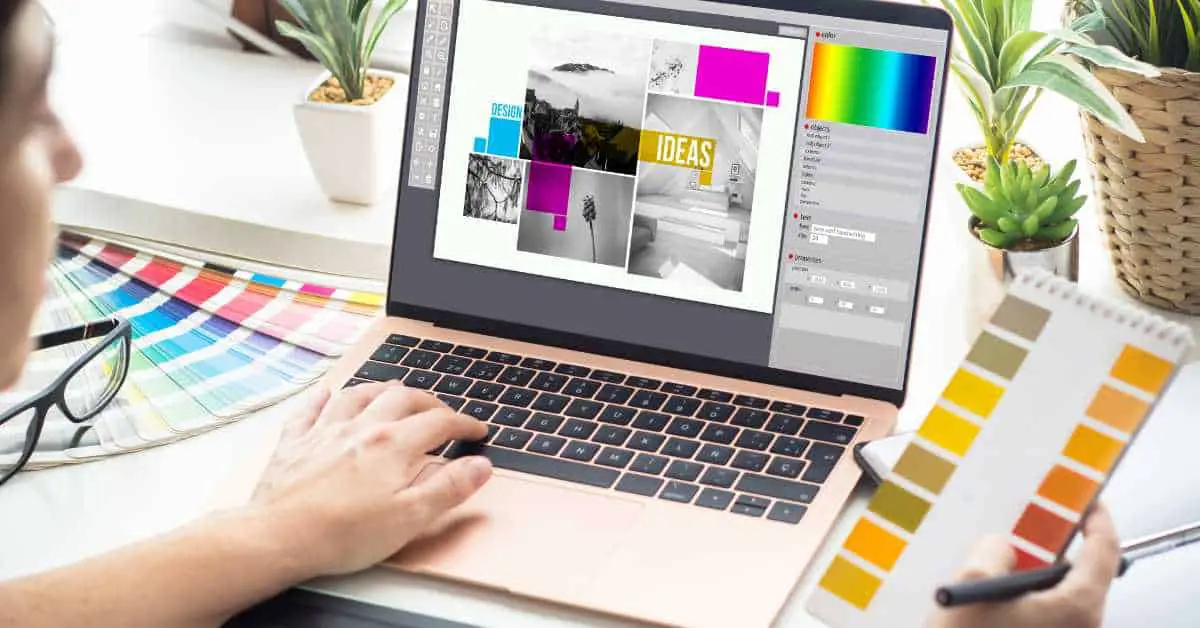 If you're a blogger looking to monetize your blog, selling digital planners is a great way to start. 
Digital planners are becoming increasingly popular among those who prefer a paperless and organized way of planning their day. 
By creating and selling digital planners on your blog, you can tap into this growing market and earn passive income.
To get started, you'll need to create a digital planner that suits your target audience.
 This can be a daily, weekly, or monthly planner, depending on what your readers are interested in. 
You can also choose to create planners that cater to specific niches, such as fitness, finance, or travel. Make sure your planner is aesthetically pleasing and easy to use, with plenty of space for notes and customization. 
Once you've created your planner, you can sell it on your blog using a tool like SendOwl.
SendOwl is a digital commerce platform that simplifies selling digital products.
 It works by allowing sellers to set up an online store, securely process payments, and instantly deliver digital goods to customers. SendOwl supports various payment gateways and offers customization options. 
Pricing starts at $9 per month for up to 10 products and increases based on the number of products and additional features required.
It would be a fantastic idea if you offered your planner in your posts as this could make you daily sales. 
4. Sell Digital Planners on Creative Fabrica
Creative Fabrica is a popular digital marketplace and subscription-based platform that offers a wide range of digital assets. 
As a seller on Creative Fabrica, you can make money by selling your own digital products, including digital planners. 
It's also completely free too!
To get started, create an account and set up your shop.
You then have the chance to design unique digital planners and package them as downloadable files. 
The process is easier than you think too. 
Think about it. You create that product once and you can then sell it repeatedly!
This is a passive income stream that keeps on giving!
This seller earned 1k selling digital downloads in their shop. 
Once your products are all created, you can then set your prices and royalties and promote your products within the marketplace and through other channels.
Just as with Etsy, you can create individual products and then bundle these items to get more sales. 
5. Sell Digital Planners on Amazon
Another great place to make money selling digital planners is on Amazon using the Kindle Direct Publishing platform (KDP)
 Amazon KDP allows you to upload your digital planner designs and sell them to a global audience without worrying about printing, shipping, or storage costs. 
Not to mention, Amazon KDP offers a royalty of up to 70%, which means you can earn a significant income from your digital planner sales.
To get started, you'll need to create your digital planner using software such as Adobe InDesign or even PowerPoint. 
Once you have your design ready, you can upload it to Amazon KDP and set your pricing and royalty percentage.
 And don't forget to optimize your listing with a catchy title, relevant keywords, and eye-catching images to attract more buyers.
Use tools such as BookBolt, Publisher Rocket, and Book Beam to do in-depth keyword research.
Learn more about how to start on KDP and sell journals online.
6. Create Digital PLR Planners
Have you ever heard of PLR products?
This is simply Public Label Rights.
It's a type of license that allows individuals to legally use, modify, and distribute certain content or products. 
PLR grants specific rights to the purchaser, typically in the form of written or digital materials, such as articles, e-books, videos, or graphics.
These planners are pre-designed templates that can be customized and sold by entrepreneurs or business owners. With the rise of digital products, the demand for digital planners has increased, making it a profitable niche to venture into.

You can sell these types of planners where someone purchases the planner and edits it and sells it as they see fit. 
One of the advantages of selling digital PLR planners is that they are relatively easy to create.
 You can design your planner templates using software like Adobe Illustrator and customize them to your liking.
 Once you have created your templates, you can sell them on platforms like Etsy, Gumroad, or your website. 
Also, digital products have a low overhead cost, which means you don't have to worry about printing or shipping costs. 
With the right marketing strategy, you can reach a broad audience and potentially earn passive income from your digital PLR planner sales.
Digital Planners FAQ
Is it profitable to sell digital planners?
Selling digital planners can be profitable, especially if you offer unique designs, target the right audience, and provide high-quality products and excellent customer service.
Are digital planners in demand?
Digital planners are definitely in high demand. Many people are embracing digital planning for its convenience, flexibility, and eco-friendliness, making it a popular choice for staying organized and productive.
Do digital planners sell well on Etsy?
Of course! Digital planners can sell well on Etsy. With a large customer base actively seeking digital products, Etsy provides a platform where you can reach potential buyers who appreciate and value digital planning.
Can I sell a digital planner I made on Canva?
You can sell a digital planner you made on Canva if you have the appropriate rights and licenses. Ensure that you comply with Canva's terms of use and any applicable copyright laws when selling your creations.
Do people still buy digital planners?
A LOT of people still buy digital planners. In fact, the demand for digital planners has been steadily growing as more individuals recognize the benefits of digital organization and seek efficient ways to manage their lives.
Can you make a living selling digital products?
It's quite possible to make a living selling digital products. With the right combination of quality products, effective marketing, and a dedicated customer base, selling digital products can provide a sustainable income stream.
Can I make a digital planner on Canva and sell it on Etsy?
Yes, you can create a digital planner using Canva and sell it on Etsy. Canva offers user-friendly design tools and templates that can help you create visually appealing digital planners to showcase on Etsy.
What sells the most on Etsy, digital products?
Digital products that sell well on Etsy include a wide range of items, such as printable artwork, graphics, fonts, digital templates for invitations or resumes, educational materials, and of course, digital planners.
What printables make the most money on Etsy?
Printables that often generate good income on Etsy include wall art, planners, journals, party decorations, organizational tools, and educational resources. However, the profitability can vary depending on factors like quality, uniqueness, and market demand.
Make Money Selling Digital Planners at Home
Selling digital planners is a great way to make money from home. It's a flexible and creative way to earn some extra income while doing something you enjoy.
Use your creativity to create beautiful and unique digital planners that people will love to use and purchase.