This post may include affiliate links.
Do you like to color?
Coloring books have become an increasingly popular pastime for people of all ages. 
Because of their therapeutic benefits, they have become a go-to activity for people looking to relax and unwind. 
In fact, the demand for coloring books has grown so much that they have become a lucrative market for sellers.
 If you're looking to start a side hustle or are simply curious about how to make money selling coloring books, then don't leave this post.
Today, you'll discover the various ways you can profit from selling coloring books. 
And remember, you can do this whether you're an artist, a marketer, or simply someone looking to make some extra income.
So let's find out how to make money with coloring books! 
PIN IT!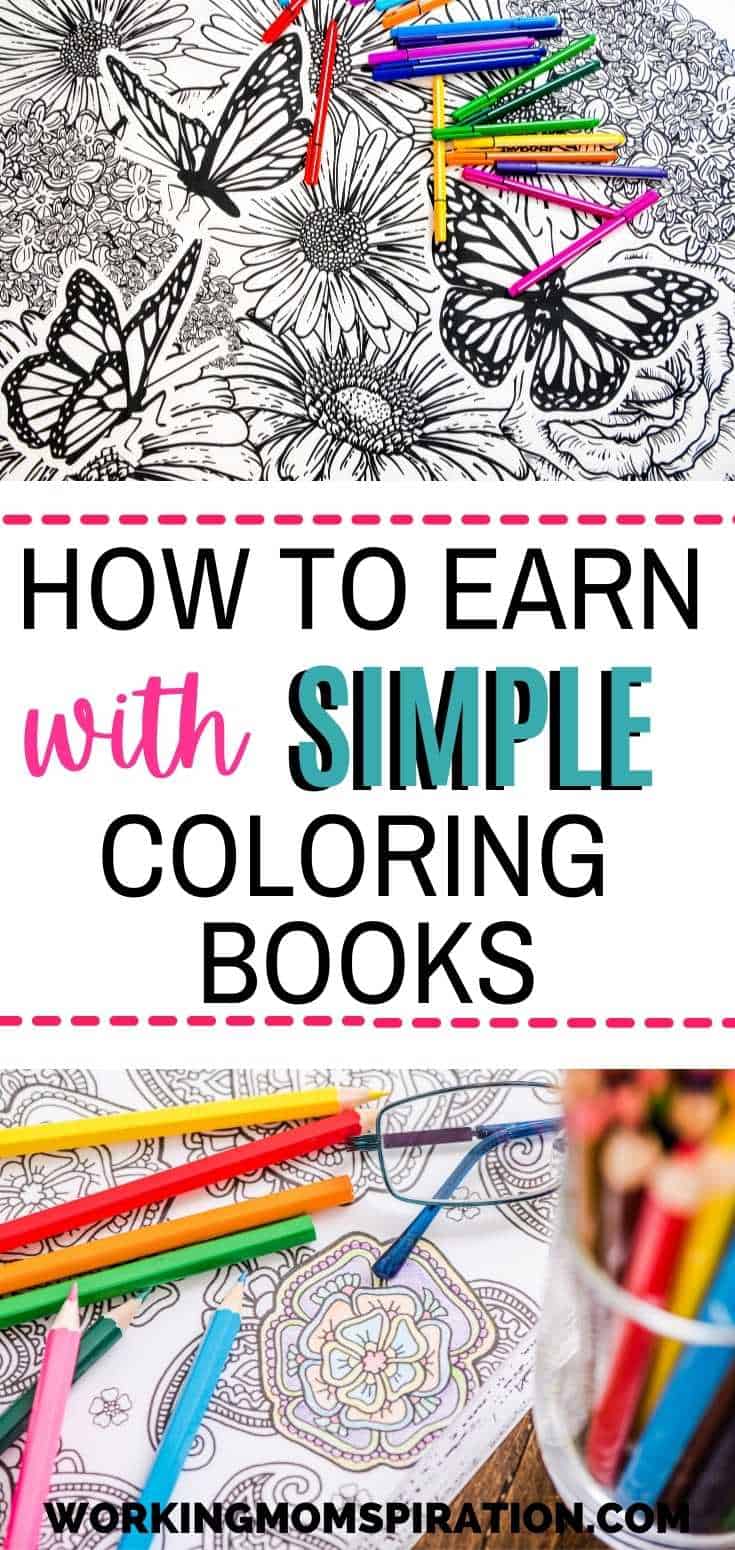 1. Sell Coloring Books on Your Website 
Selling coloring books on your own blog can be a profitable venture for those with a passion for art and creativity. 
Because coloring books have become more popular recently, there is no shortage of people looking to get the next best thing.
Some folk take up coloring as a hobby and so they want unique and high-quality designs that cater to their interests and preferences. 
You could utilize the power of digital media and e-commerce to create and sell coloring books that appeal to your niche audience while generating a steady stream of income.
Because it may be difficult to gain visitors to your blog in the beginning, I recommend starting a blog centered around art creation of some sort.
Once you've obtained enough readers through proper SEO, you could then set up an e-commerce shop and start selling your coloring books!
You should first conduct market research to discover popular trends and themes in the coloring book industry.
 Then, take some time to create original designs or even collaborate with artists to develop custom illustrations.
Finally, you can sell them by using Woo-commerce or Shopify integrated with your blog for selling your books.
This shop is doing it so you definitely can too!
2. Sell Coloring Books on Amazon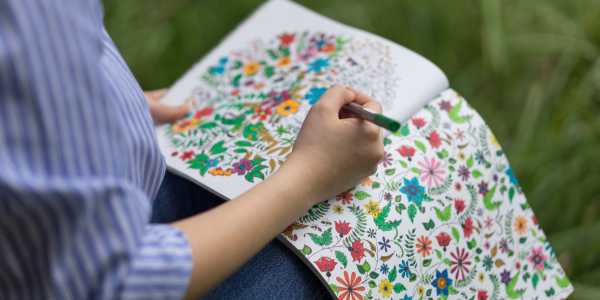 Everyone knows about Amazon.
It's where most of us go to do online shopping for a variety of things.
Books, toys, baby stuff, you name it, Amazon's got it!
But did you know that you can sell coloring books on Amazon?
You sure can, and it's easier than you think.
The KDP Kindle Publishing Platform is Amazon's go-to spot for budding and experienced authors to get their books seen and sold. 
The first thing you need to do is find a niche within the coloring book market. 
There are many different types of coloring books available, from adult coloring books to children's coloring books featuring fun characters. 
Do your research and figure out what types of coloring books are selling well on Amazon. 
Once you have identified your niche, you can start creating coloring books to sell. 
You can get started by creating coloring books using your skills to create lined illustrations.
Once you've created your illustrations with painstaking accuracy, you can add them to the KDP platform.
Follow up by adding your gorgeous cover and voila, you're done!
Learn how to create books with Amazon easily or even sell journals on your own. 
3. Sell Coloring Sheets on Etsy
I love browsing on Etsy!
Even if I'm not buying anything, I just LOVE to look at the products they have on the site.
This is one of the most popular online marketplace where independent sellers can list and sell their unique items, including digital products like coloring sheets. 
It's ideal for those who want to reach a wider audience and connect with customers from all over the world.
Anything from handmade products to stickers, they have a range of cute items you can't find anywhere else.
If you'd like to start a coloring book business, Etsy is a great place to start.
It can be a profitable venture if you enjoy creating art and designs that can be used for coloring.
To start selling coloring sheets on Etsy, you first need to create your shop and set up your listings. 
You can create digital files of your coloring sheets using software like Adobe Illustrator, and then upload them to your Etsy shop. 
Make sure to include clear and attractive images of your coloring sheets and a detailed description of what customers can expect. You can also offer different sizes or formats of your coloring sheets, such as PDF or JPEG, to give customers more options. 
Pricing your coloring sheets can be tricky, but you can research similar products on Etsy and set a competitive price that reflects the time and effort you put into creating them. 
I recommend creating bundles and sales to get more customers who are on the lookout for deals.
When you get more sales and good reviews, this can certainly boost your position in the algorithm.
You can choose to settle on one coloring niche, or spread your wings wide in a few of them.
Just be sure to create quality products, as reviews play a huge role on Etsy!
4. Create Coloring Books on Fiverr
I've used Fiverr myself with great results and would recommend it to anyone.
If you're interested in using a platform where you have control over your own time, then this could be the place for you to set up a side hustle.
You could earn a decent living on the platform by creating coloring books for clients on Fiverr. 
This is perfect if you're an illustrator or an artist looking for extra gigs.
You can do this whether you enjoy drawing intricate mandalas, cute animals, or inspiring quotes.
People are paying to have freelancers design their products to save time, or simply because they don't possess the skill of drawing.
Start making money by heading over to Fiverr and starting a free account.
The registration process is really easy and gives you access to boundless possibilities. 
Simply navigate to their website, click the sign-up button, and presto! 
Create a profile that shows off your unique set of skills, experience, and personality.
Once registered, you can start setting up your gigs.
You can effortlessly peruse the platform to find opportunities that align with your talents and interests. 
Alternatively, you can also create a bespoke gig, promoting yourself to prospective clients.
This Fiverr freelancer makes money on Fiverr creating coloring books and the money he earns looks fabulous to me.
So get started and earn consistent cash!
5. Sell Coloring Bundles on Teachers Pay Teachers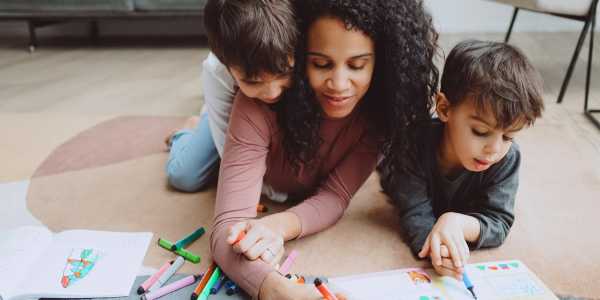 Have you ever heard of Teachers Pay Teachers?
If not, it's a wonderful online platform where teachers can share and find educational resources created by fellow educators. 
It's like a treasure trove of creativity, knowledge, and inspiration! 
Imagine a virtual marketplace filled with lesson plans, worksheets, activities, classroom decorations, and so much more, all crafted by teachers who understand the needs of their fellow educators. 
You don't have to be a teacher to sell on the platform though.
With skill and creativity, you can sell a range of products on the site to earn a steady cash flow.
To earn on TPT, you need to provide value. Most of your customers will probably be teachers, parents, or homeschooling moms and dads. 
When you focus on creating high-quality materials that meet the needs of buyers, you contribute to the platform's excellence and build a strong reputation for yourself.
This earns you credibility and customer loyalty and attracts more buyers to your offerings. 
Getting started is easy and exciting!
 Simply create an account prepare your captivating coloring book with visually appealing pages, and convert it to a PDF format. 
Then, create a product listing with an attention-grabbing title, a compelling description, and a fair price. Upload your PDF file, add preview images, and start marketing your coloring book through social media and educational communities. 
You will also get found on the platform algorithm naturally once you've used the proper keywords.
So head over to TPT and start earning!
6. Teach Coloring Classes on Outschool
Another way to make money selling coloring books is to teach the process on Outschool.
Outschool is an amazing online learning platform that opens up a world of educational opportunities for learners of all ages.
Think of it like a virtual classroom filled with engaging and interactive courses taught by passionate instructors from around the globe. 
You could make money on Outschool by sharing your knowledge of art with others.
On this platform, you can teach coloring classes to kids and adults alike and make money doing what you love. 
Would you prefer to focus on beginner techniques or advanced shading methods? 
It's your choice as there's a space for you on Outschool.
Not only will you get the satisfaction of sharing your passion with others, but you can also earn a significant income by setting your own prices and creating a flexible schedule.
Also, the bonus is that with Outschool's user-friendly platform, you can easily connect with students from all over the world and build a community of like-minded coloring enthusiasts. 
If you enjoy teaching and art, Outschool is a great place to start your next side hustle.
FAQ on Selling Coloring Books
How to start selling coloring books?
To start selling your coloring books, begin by creating eye-catching and engaging designs that cater to your target audience. 
Once you have your artwork ready, you can set up an online shop on platforms like Etsy or your own website.
Take quality photographs of your coloring book pages, write enticing descriptions, and determine fair pricing.
You can then promote your coloring books through social media, online communities, and by engaging with potential customers. 
Is it profitable to sell coloring pages on Etsy?
You should know that selling coloring pages on Etsy can be profitable!
 That's because it has a wide customer base and a platform dedicated to handmade and unique products.
With that, Etsy provides a great opportunity to reach coloring enthusiasts.
 By offering high-quality designs, promoting your listings effectively, and delivering exceptional customer service, you can attract buyers and generate income. 
Remember though to consider factors like pricing, competition, and marketing strategies to maximize your profitability on Etsy.
What makes a successful coloring book?
A successful coloring book captures the imagination and engages its audience. 
Quality illustrations, diverse themes, and unique designs are key factors. Creating a balance between complexity and simplicity is important, as it allows for a wide range of coloring skills and preferences. 
Who buys coloring books?
Coloring books have a broad appeal, attracting a diverse range of buyers. Children and parents often purchase coloring books for creative and educational purposes. Adults also embrace coloring as a form of relaxation, stress relief, and artistic expression. 
Furthermore, coloring books are popular among hobbyists, art enthusiasts, and collectors. With the variety of themes available, coloring books appeal to people of all ages, making them a versatile and widely enjoyed product.
How profitable are coloring books?
This can vary depending on the quality of designs, target market, pricing, marketing efforts, and distribution channels. 
You can earn more money when you offer unique coloring books, build a strong brand, and effectively reach your target audience. It's important for you to conduct market research, identify trends, and continuously refine your designs to stand out in the competitive market.
Do coloring books make money on Amazon?
Coloring books can definitely make money on Amazon! 
Amazon is a popular platform with a wide customer base, providing excellent exposure for your coloring books. 
To really drive sales, it's best to optimize your listings with attractive images, compelling descriptions, and competitive pricing, so you can increase your chances of success. 
How many pages should a coloring book have?
The number of pages in a coloring book can vary depending on the intended audience, the complexity of the designs, and your creative vision.
Coloring books typically range from 20 to 100 pages, but there is no strict rule. Consider factors such as printing costs, customer preferences, and the theme or purpose of your coloring book. 
For children's coloring books, a higher page count may be suitable to provide more content.
However, for adult coloring books, a moderate page count with intricate designs can be appealing. 
Ultimately, find a balance that suits your artistic vision while meeting the expectations of your target market.
How to Make Money Selling Coloring Books Online
It's time to earn some cash from your creativity with coloring books.
Selling these products can help you kick-start a profitable side hustle.
You can utilize several online platforms to sell coloring books and gain loyal buyers who enjoy your products.
Always start a business like this with proper niche research and by creating quality designs.
In no time, you could have a 6-figure business on your hands!
PIN IT!