This post may include affiliate links.
Hey there, homeschooling mamas! 
Looks like you're trying to find out how to make money homeschooling.
I went through the same thing and let me tell you, it wasn't easy in the beginning. 
I was searching online for different ways to make money while homeschooling and everything seemed…meh.
Some jobs weren't flexible enough, others didn't pay enough and others were just too hectic.
I'm sure you're looking for flexible ways to make money as a homeschool mom.
Jobs that allow you to be at home with kids, and earn a steady income.
Well, as a homeschooling mom, I'll show you a few jobs that are great for you to get started with.
Let's dive in and find out how to make money while homeschooling!
PIN IT!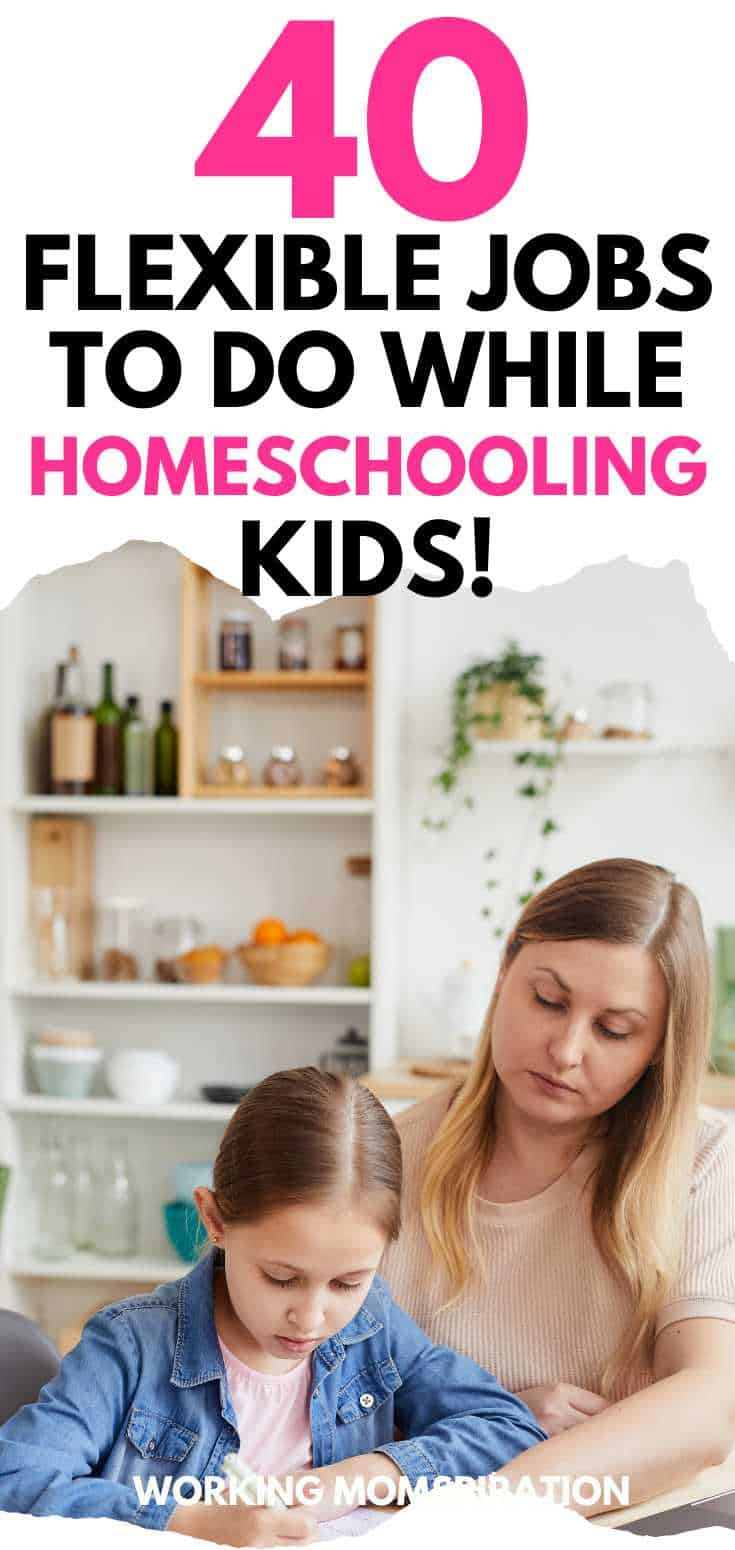 40  Ways to Make Money Homeschooling
1. Online Tutoring
While it might seem redundant to teach other kids along with your own, it might be just the best job to earn money.
You'll be using your skills to teach students a subject area they need help in.
There's no better time to become an online tutor as the rise of online learning is only increasing. 
You could become a private online tutor and work on your own schedule. That means it won't interfere with your homeschooling efforts. 
As an online tutor, you can work from the comfort of your own home and specialize in a particular subject area, such as math, science, or language arts, or offer general academic support to students in multiple subjects.
Apply to spots like:
Outschool ( you can use this for your own kids too!)
Chegg tutor
Cambly
You can even teach students a second language!
2. Freelance Writing
Do you enjoy writing?
You could try freelance writing as a flexible online job.
I've done it while homeschooling and it brought in some extra cash every week!
It does take a little time during the day, but it's well worth it. 
As a freelance writer, you can specialize in educational content, parenting articles, and even homeschooling resources. 
Writing for online publications, blogs, and websites can also provide a steady stream of income.
 I recommend looking for freelance jobs on writing sites via the career link and other places like Freelance Writing Gigs and Problogger.
3. Virtual Assistant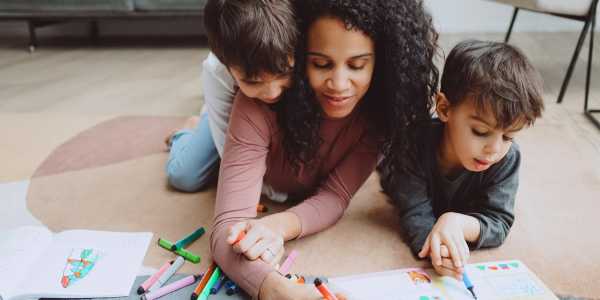 If you're great at doing tasks, becoming a virtual assistant is a great idea.
The one issue I do see is keeping the noise to a minimum. But if you have a designated work area, this job could work in the long term.
You'll be doing tasks like:
Email Management
Data Entry
Social Media Management
Online Research
Travel Arrangements
Content Creation
Calendar Management
Depending on your interests and skills, you may specialize in a particular area or offer a variety of services to clients.
 As a homeschooling parent, you may find that your experience and organizational skills make you well-suited for this type of work. 
If you have a reliable internet connection, a computer, and a quiet workspace, you can start earning money as a virtual assistant while still prioritizing your family's education.
4. Graphic Design
This might not be for everyone because it does require a certain skill set , but graphic design is another way for homeschool moms to make money at home.
Graphic design is a highly valuable skill in today's digital age, as it is needed for everything from website design to social media marketing to product packaging. 
Clients are willing to pay top dollar for quality graphic design work. 
Homeschooling parents who have a knack for design can leverage their skills to earn an income from home. 
They can advertise their services online, reach out to local businesses and organizations, or even collaborate with other homeschooling parents who may need design work done for their own businesses or projects.
You could do things like:
Ready to start earning?
Here are 5 spots:
Behance
Dribbble
99designs
Freelancer
Fiverr
5. YouTube Creator
Have you ever considered starting a YouTube channel? 
There's an immense popularity in homeschooling and many parents are turning to YouTube as a platform to share their experiences, tips, and advice with other homeschooling families.
 And the best part? 
You can actually make money while doing it!
To be honest, making money on YouTube does take time. You need to create videos, scripts for these videos, find low-competition keywords, and publish quality content. 
But if you can manage it all, it's a fantastic way to make money each month. 
By creating content that resonates with your target audience, such as homeschooling routines, curriculum reviews, and educational activities, you can attract a following and eventually monetize your channel through various means such as sponsorships, affiliate marketing, and Google AdSense. 
Not only will this provide you with a source of income, but it can also be a fun and creative outlet for you to share your passions and connect with like-minded individuals.
Of course, it takes time and effort to build a successful YouTube channel, but with consistency, authenticity, and a willingness to learn, you could be well on your way to earning money while homeschooling. 
6. Sell Handmade Crafts on Etsy
What if you could add a little extra income to your plate while still being able to stay at home with your children? 
Selling handmade crafts on Etsy might just be the perfect solution for you.
Not only can you turn your creativity into a profitable business, but you can also involve your children in the process.
 Imagine spending quality time with your little ones while teaching them valuable skills like crafting, marketing, and entrepreneurship. 
With Etsy, the possibilities are endless. From knitted blankets to handmade soap, there's a market for just about anything on this popular online marketplace. 
You could sell other items like:
If you're more into digital products, here are 40 items you could sell on Etsy!
7. Bookkeeping
Are you looking for a functional way to make money while homeschooling your children? 
Consider becoming a bookkeeper! 
As a bookkeeper, you can work from home, set your own schedule, and earn a steady income. 
You don't need a degree or certification to get started, just a passion for numbers and a willingness to learn.
Many parents have found success as bookkeepers while homeschooling their children. 
They are able to balance their responsibilities as a parent and an employee, all while providing their children with a quality education. 
It takes hard work and dedication, but it is possible to achieve your goals and make a difference in your family's life.
Indeed
LinkedIn
Glassdoor
ZipRecruiter
CareerBuilder
8. Online Courses
I love taking online courses!
I never need to leave the house or get huddled in a room with other people for hours. I can just head over to my laptop and start listening.
The benefit for you is that it opens countless opportunities for you to turn their passions into profitable businesses.
 With your expertise in homeschooling, creating an online course could be the perfect way to share your knowledge and skills with others while earning a steady income.
Imagine the satisfaction of knowing that you're not only providing your children with a quality education, but also helping other families achieve the same.
With an online course, you have the potential to reach a global audience, make an impact, and earn an income from the comfort of your own home. 
Don't let the fear of the unknown hold you back. Take the first step towards your entrepreneurial journey and start exploring how you can turn your homeschooling expertise into a profitable online business. 
You can try platforms like Skillshare or Udemy and earn passive income. 
9. Transcription
No doubt homeschooling has brought on a few skills and if you record your children's grades and such digitally, you've probably learned to type a bit faster.
One way to make the most of your time with this new skill is with a transcription job.
Transcription involves converting audio or video recordings into written documents. 
Obviously, this can be done at home or even on a road trip.
Some people work as transcriptionists part-time, while others do it full-time. You can do either, but it's good to know you can choose your own schedule.
It does require strong listening and typing skills, attention to detail, and the ability to work independently though.
You can enhance your practice by using a FREE MINI COURSE!
Check out GoTranscript for freelance transcription jobs as they're always hiring!
10. Proofreading Gigs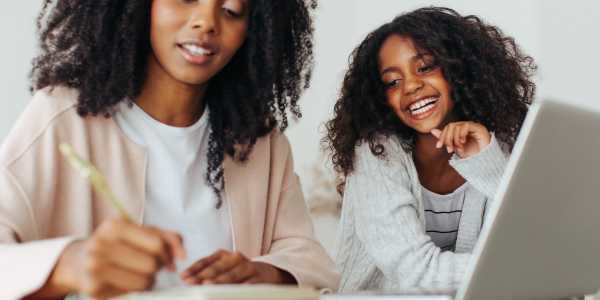 I'm someone who enjoys reading and I've once read 100 books in a year thanks to the Goodreads Book Challenge.
If you're someone who enjoys reading too, you could try proofreading as a side hustle.
 It basically involves checking written content for grammatical errors, spelling mistakes, and punctuation errors.
Almost every content creation job or business needs proofreaders.
Take these for example:
Publishing Companies
Advertising Agencies
Newspapers and Magazines
Academic Institutions
Content Creation Agencies
Legal Firms
Marketing Agencies
Translation Services
E-commerce Websites
Research Organizations
Proofreading is a great way for homeschooling parents like you to make extra income.
 You can choose your hours and work around your homeschooling schedule.
 All you need is a computer and an internet connection, and you can start proofreading jobs from home. 
The best part is that you don't need any special skills or qualifications to become a proofreader. 
However, it's important to have a good grasp of English grammar, spelling, and punctuation. 
There are many online platforms that offer proofreading jobs, and some websites even specialize in homeschooling material. 
Find out how this proofreader makes $43,000 a year working part-time!
11. Blogging
I love to blog and if you don't mind writing and researching you could grow to love it too!
The thing is, I started my blog when I was homeschooling and not even working yet.
I used a little money I had saved up and started my blog and have been doing it ever since.
You can start a blog for as little as $2 a month. ( this is if you purchase for 3 years)
Blogging is a lucrative business offers the flexibility to work from home and set your own hours.
That's why I started it anyways!
To start a blog, you will need to choose a niche that interests you and that you are knowledgeable about.
 This can be anything from parenting and education to cooking or travel. 
If you'd like to blog about homeschooling, that's a great choice because you'll never run out of ideas.
Once you have a niche, you can start creating content and building your audience.
Homeschool topic ideas you could try are:
Curriculum Reviews
Daily Routine Tips
Educational Resources
Subject-specific Activities
Field Trip Adventures
Socialization Strategies
Teaching Multiple Ages
Home Organization
Hands-on Learning
Homeschooling Challenges
Parenting and Education
Teaching Special Needs
Assessment and Testing
Creating Learning Environments
Homeschooling Lifestyle
 There are several ways to monetize a blog, including advertising, sponsored posts, and affiliate marketing.
 As your blog grows, you can also create digital products, such as courses or ebooks, to sell to your audience. 
Find out how this couple earns $500,000 a year with their own blog!
12. Market Research
This is probably one of the easiest ways to earn money as a homeschooling mom, but it's an extra-money gig rather than a full-time job. 
Market research involves collecting and analyzing data about consumers and their behavior. 
Companies use this information to develop and improve their products and services.
 As a homeschooling parent, you can participate in market research studies. 
These studies can take the form of focus groups, or even product testing. 
In exchange for your time and opinions, you can earn cash, gift cards, or other rewards. 
Market research companies often look for a diverse range of participants, so homeschooling parents and their children can provide valuable insights into a unique demographic. 
Participating in market research studies can be a great way to teach your children about the importance of consumer behavior and business practices. 
Check out Respondent for research studies that pay up to $400!
How to Make Money Homeschooling: Extra Money Ideas
13. Sell Internet: Sell your bandwidth using a site like Honeygain.
14. Web Development: Build and design websites for clients.
15. Social Media Management: Manage social media accounts for businesses or individuals.
16. Photography: Offer photography services for events or portraits.
17. Fitness Coaching: Offer virtual fitness classes or personalized coaching.
18. Baking/Cooking Classes: Teach cooking or baking skills online.
19. Ebook Publishing: Write and publish ebooks on topics you're knowledgeable about.
20. Affiliate Marketing: Promote products and earn a commission on sales.
21. Give Your Opinion: Share your thoughts and earn with Opinion Poll, Opinion Heard & Opinion Bar!
22. Consulting: Provide consulting services to clients.
23. Pet Sitting/Dog Walking: Offer pet care services to local residents.
24. Rent Out Property: Rent out a room or property on platforms like Airbnb.
25. App Development: Create and sell mobile apps or software.
26. Gardening Services: Offer gardening and landscaping services to neighbors.
27. Yoga/Fitness Instruction: Teach virtual yoga or fitness classes.
28. Life Coaching: Help clients set and achieve personal or professional goals.
29. Online Reselling: Buy and resell items on platforms like eBay or Poshmark.
30. Home Organization: Help others declutter and organize their spaces.
31. Music Lessons: Teach musical instruments or vocal lessons online.
32. Catering/Baking: Offer catering or baking services for events.
33. Selling Art: Sell your artwork, prints, or digital designs.
34. Interior Design Consulting: Provide virtual interior design advice to clients.
35. Car Detailing: Offer car detailing services to local customers.
36. Pet Grooming: Provide grooming services for pets in your area.
37. Home Repair Services: Offer handyman or repair services to neighbors.
38. Online Fitness Challenges: Create and lead online fitness challenges.
39. Life/Business Coaching: Offer coaching services to help clients reach their goals.
40. Personal Shopping: Offer personal shopping assistance for busy individuals.
How to Make Money While Homeschooling the Kids!
Homeschooling your children can be challenging but it's also super fun!
It may seem daunting at first, but with the right mindset and resources, you can make money even with rambunctious kids running around.
Start by reviewing some of your favorites on the list or look at doing online tutoring, freelancing, and selling products.
You can not only make money but also provide your children with a quality education.
Remember that homeschooling and making money can go hand in hand, and with persistence and determination, you can achieve success in both areas.
PIN IT!